The Fremantle Dockers are literally shifting the goalposts on how football is tackling its technological future, according to a report in The West Australian on Friday.

Fremantle Dockers chief executive Steve Rosich told the paper that the club's new home at Cockburn Central West would set a new standard for best practice in the ultra-competitive AFL
It is an unusual venture where local government has brought an elite sporting team into a community facility.
The West Australian reports on some of the "game-changing" initiatives in a tour of the $109 million elite training and administration facility, set for full operation early next year.
It includes a main training oval big enough to replicate every AFL ground and a GPS program that shows instantly where goal posts and markings need to go to mirror venues such as the MCG, SCG, the Gabba, Adelaide Oval and WA's Domain Stadium.
It is modelled on the new Burswood Stadium oval with the same surface and orientation and will have a similar perched water table under it which captures water and retains it so the ground can be watered from below.
"On some grounds you have more space and some are smaller, so to be able to train in those situations leading up to games will be a big advantage," Fremantle Dockers Foundation ambassador and star midfielder Stephen Hill told The West Australian.
"Everything counts, so if we can even get that one little thing to help us we'll be happy. To be able to have all the facilities here is going to make it a hell of a lot easier for the boys to prepare well."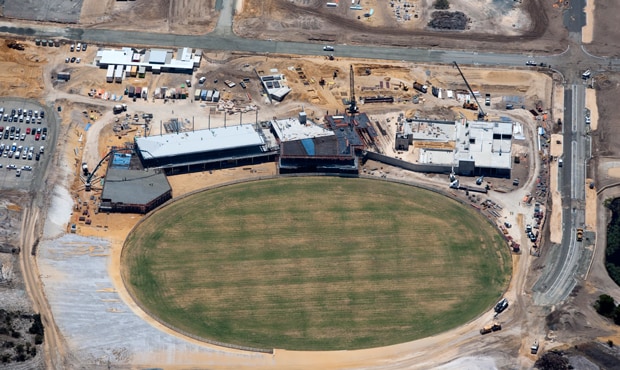 Progress of the facility in January, 2016.

Fremantle Dockers strategic projects general manager Brad Paatsch said the state-of-the-art weather station included an irrigation monitoring system to turn water off or on when needed. Curators could also monitor the ground online and operate the system from anywhere in the world.
"The whole oval and the concept behind it is as innovative as you can get and a huge game-changer for us," Paatsch told The West Australian.
The club's dedicated 6000sqm is three times the size of its current Fremantle Oval space.
The Fremantle Dockers will also use new community facilities such as an indoor training centre with half a football oval marked across six basketball courts.



Artist impression of the indoor stadium.
There is an aquatic recovery, hydrotherapy and pools area, a second training oval, an altitude chamber with sleeping area for players, an indoor running track with timing gates and force plates to measure performance, a club function centre and a retail outlet.
There are also water slides for all ages in the public aquatic centre and an "internal street" for access to a sports medical centre and cafe.
The Fremantle Dockers administration will sit above the football training and operations areas, which will include a multimedia studio. An outdoor physical training area will feature a sunken trampoline for plyometric exercises and a sandpit for tackling and running drills.
An open-plan air-conditioned locker room has individual lockers and technology allowing coaches to send training schedules and messages to the players when they log in.
There is also a 1200sqm concreted terrace on the western end for building extensions.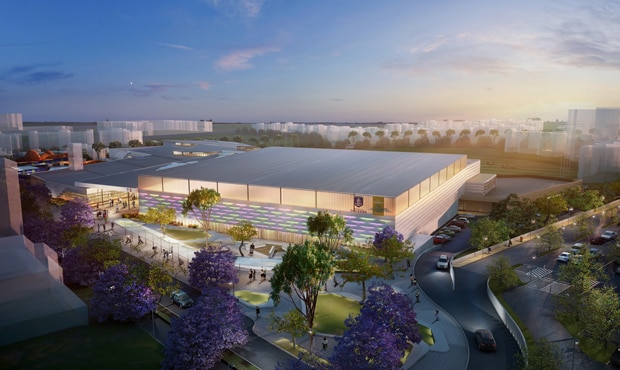 Rosich told the paper he would not buy into recent speculation that at least the oval part of the development could be named Pavlich Park in honour of club legend Matthew Pavlich.
But he admitted discussion was imminent on "those sorts of nuances".
Construction, which was six months into an 18-month build, was "nominally" ahead of schedule and Rosich believed the facility would attract a million visitors a year.
"It's a significant project and a significant strategic project for our footy club," he told The West Australian, adding that sourced funding left the club with a $12.75 million contribution as part of its long-term lease.
"It's really exciting to see the project come to life.
"We're proud of our base at Fremantle Oval and it's been a great home for us, but the reality is that it's in the bottom four in the competition and it's very restrictive in our capacity to grow.
"As it will stand in March, 2017 when we do move in, it should be the best facility in this country.
"It will host arguably WA's best aquatic facility, but there are so many facets to it and that's what makes it exciting. It will be great for the brand and interaction with the Fremantle Dockers."
Rosich told the paper that the new oval was likely to be ready as early as April and he was optimistic training sessions would be held there this season. He was also adamant the complex would help attract key staff and players.
"The business of attracting and retaining players at your club involves many facets of the organisation and facilities are one," he said. "We certainly won't be let down by our facilities."
Rosich said the club still had 40 years of its tenure remaining at Fremantle Oval and would soon clarify plans for the site's immediate future.