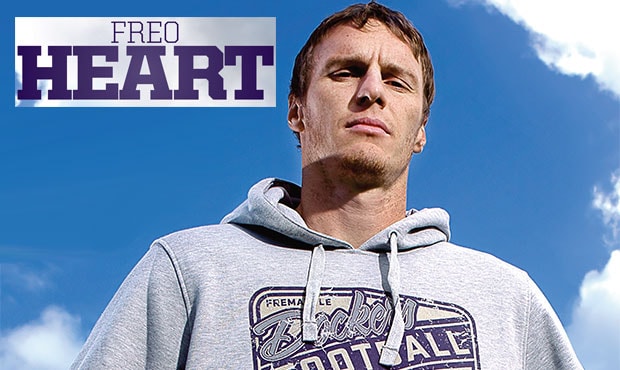 As seen in the Half-time edition of Docker Mag
When Ross Lyon was asked about
Jonathon Griffin
during a media conference before Fremantle's round 7 clash with Collingwood, the senior coach replied bluntly and honestly.
"He could have left."
Lyon was referring to the opportunities on offer for Griffin to depart Freo at the end of 2012 and pursue a contract with a club desperate for a quality ruckman to lead its on-ball division.
Aaron Sandilands was a clear first choice at Freo, but it was opportunity that made Griffin's decision to stay an easy one.
"We've got a great opportunity over the next couple of years," Griffin said.
"I think we're really building something pretty special here and I want to be a part of that. I'm rapt to be here."
Sadly, Griffin won't get that opportunity this year after he suffered a season-ending knee injury against the Magpies.
Not on the field, anyway.
He'll be in the stands supporting his Fremantle Dockers. In that regard, not much has changed from before he was an AFL player.
Griffin and his family have been passionate supporters of the club since day one.
He spent the first 10 years of his life living in the south-west WA town of Bunbury before moving to Booragoon in Perth's southern suburbs.
He attended Booragoon Primary and Applecross High and played his junior football for Booragoon, or Karoonda, as the club was known at the time.
"I used to jog to training and get there half an hour early just to have a kick with some mates," Griffin said.
"I've got some good memories with my mates down there." Griffin barracked for East Fremantle in the WAFL – his first ever football jumper was a blue and white Sharks' jersey.
He followed the West Coast Eagles, because he was West Australian, but when the option to convert to a club closer to home popped up in 1995, he took it.
His family bought Freo memberships when they arrived in Perth and Griffin's love for the club took him to Subiaco Oval every second week of the football season.
It was there that his favourite Freo football memory took place on Friday, 19 August 2005.
Griffin and his brother, Brendon, were sitting at the bottom of the three-tier stand at the Subiaco end of the ground. They were just to the left of the left behind post, a perfect spot to see his favourite player, Justin Longmuir, blast through an after-the-siren set-shot to defeat St Kilda and send the entire stadium into delirium.
"I used to love watching Justin Longmuir, so the kick after the siren when he kicked the goal is a hard one to beat," Griffin said.
"I remember being there and I was jumping around. I think I hugged my brother because it was a very exciting time."
The realisation that he could be Longmuir's teammate hit Griffin just a few months later.
"I was at a mate's place and I got a phone call from a Freo representative saying they were very keen on me," he said.
"I was pretty shocked. I was that excited I ended up running home to tell my mum."
In the 2005 Rookie Draft, Griffin's dream became a reality, but it wasn't his beloved Freo that selected him.
The Adelaide Crows jumped in at selection 21 to nab the ruckman.
While his perfect situation hadn't eventuated, Griffin was still thrilled to become an AFL player.
"Most 18-year-olds have to come to terms that they might have to move to pursue their dreams," he said.
"I was rapt when I heard my name called out by Adelaide."
Limited opportunities saw Griffin play just 41 games in four seasons at the Crows, so at the end of 2010 a family illness and homesickness saw him look to head back home.
He packed his bags and drove west to reunite with his heart in Fremantle.
Griffin's shattering knee injury in round 7 came at a time when he'd reaffirmed himself as quality AFL ruckman.
Freo was without long-term injury casualty Sandilands, but Griffin's start to the year helped the club get off to a flyer.
Now, from the sidelines, he'll still get his opportunity to make a difference by mentoring young South Australian ruckman Jack Hannath and future prospect Craig Moller.
Griffin and Hannath have history through a Central Districts' link in the SANFL, from Griffin's time in Adelaide.
"It's a great opportunity for me to build on my relationship with them and mentor them more, like Aaron has done for me," Griffin said.
Griffin has begun the long road back from knee surgery, which he underwent in Melbourne on Tuesday 21 May.
"The surgeon said it went smoothly and I should have a good recovery and be back in nine or 10 months," he said.
"I've already begun upper body work and I'll hopefully jump on a bike in about a month's time."
Opportunity wasn't the sole reason Griffin chose to remain at Fremantle.
"This is the club that I barracked for as a kid. I grew up around here," he said.
"I wanted to stay."
You can be certain he'll still be at Patersons Stadium cheering on his team.
The views in this article are those of the author and not necessarily those of the AFL or its clubs