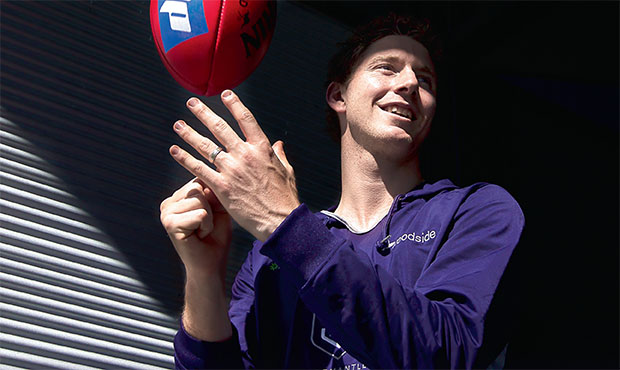 I was in the paper every day for a month, and nothing was ever positive
Zac Dawson on Hawthorn days
In an episode of Docker TV's 'The Burning Question', the players were asked what the
bravest thing they had ever done
was.
Zac Dawson
's answer was to play AFL. It wasn't skydiving, nor asking for his girlfriend Sheena's hand in marriage.
There was a time in Dawson's life when playing Aussie Rules was all he ever wanted to do, just as his grandfather from his mother Marilyn's side, Ken Barclay, and his uncle, Stuart Barclay, had done for Essendon in the old VFL.
Zac's father, Peter Dawson, remembers a skinny kid, usually "six inches" taller than anyone on his team, who couldn't go anywhere without a footy in his hand.
"He excelled at Auskick, and he was best and fairest every year in the juniors, under 12s, 13s, 14s, 16s," Peter says.
It seemed football was all young Zac wanted to do. He captained his school side, Essendon Grammar, and the Doutta Stars, a local club in the Essendon District Football League.
All the while maintaining honours level in all his school subjects.
At 16 he would join TAC Cup side Calder Cannons, a club that has produced Brownlow Medallist Dane Swan, Norm Smith Medallists Ryan O'Keefe and Paul Chapman, and Fremantle club champion Ryan Crowley.
He trained every day of the week and played Saturdays and Sundays. A bit excessive if you ask his father.
"It was too much football, but he loved it, the more the better," Peter says.
So if playing football was Zac Dawson's great passion, why did consider playing AFL the bravest thing he'd ever done?
It can be traced back to an infamous day in 2006, when in just his fourth AFL game for his new team Hawthorn, the club he'd supported his entire life, Dawson was blown aside by a big bad wolf named Anthony Rocca.
The Collingwood goliath booted eight goals, and a quiet 18-year-old who didn't like the limelight was thrust into the role of whipping boy by the Hawks' fans and the media.
"I think I was in the paper every day for a month, and nothing was ever positive," Dawson says.
"It was a lot to take on board as a young guy."
Dawson played 10 more games that season for a total of 14 at Hawthorn, but the stigma from his fourth never went away.
He was delisted at the end of the 2006 season, residing in a football wasteland for the next two years.
The scars from a tumultuous two years at Hawthorn had taken their toll and the game he'd devoted eight days a week to as a youngster wasn't fun anymore.
"Mentally, I'd had enough of not being given an opportunity, so I started to doubt myself a lot at that stage, that I wasn't good enough," Dawson says.
Not everyone shared those sentiments. One man looked beyond the media scrutiny and fan opinion and saw something he could work with.
The then St Kilda coach Ross Lyon approached Dawson at the end of the 2008 season to see if he was interested in being rookie-listed by the Saints.
But Dawson was at the crossroads of his football career, and the indicator was pointing towards not playing AFL again.
"I'd pretty much said to him I wasn't that keen when he first asked me," he says.
Lyon implored Dawson to speak to his family and friends before deciding which road to take.
"I think that was the best advice because I spoke to my parents and they said, if you don't take this opportunity, then in a year or two's time you're going to wonder 'what if?'," Dawson says.
"I didn't want to live my life like that, so I made sure I was going to give it 100 per cent and that's what I told Ross, that I was 100 per cent committed and I would give it everything I had.
"Ross instilled that belief into me, that he believed I could be a good player, that's all I needed to hear."
Zac Dawson was an AFL player again, and although the spectre of his Hawthorn days lingered, he didn't care anymore.
The person that mattered most, his senior coach, was on his side.
"To have someone in your corner at that early point, where he had nothing to gain, he didn't know me from a bar of soap, to have that belief from him straight away, that was the biggest thing for me," Dawson says.
"As a player that's all you need, someone in your corner, someone that's going to push for you and go into bat for you when things go bad, and that's what he's done."
The history books show that St Kilda, with Lyon at the helm and Dawson a key backman in the league's best defence, went to the edge of greatness twice.
But for the bounce of the ball, on two occasions, the Saints could have been much more than bridesmaids in 2009 and 2010.
Geelong's Matthew Scarlett entered footy folklore for his fourth- quarter toe poke to teammate Gary Ablett with scores level that changed thedestiny of the '09 decider.
It was Dawson who left his man and spoilt a certain mark and inside 50 to Ablett. Cruelly, the spillage went in Scarlett's direction, and just seconds later Paul Chapman kicked the winning goal.
The decision to come off his opponent and spoil did not pay off, but Dawson has no regrets, because he knows he did exactly what Lyon would havewanted him to do.
"If that spoil had gone five metres left or right, things could have been totally different," Dawson says.
"It always comes down to an inch or a millimetre in those sorts of games and you always wonder what if, but personally, I have no regrets, I feel like I did my job and played my role for the team."
Playing his role for the team has been the foundation of Dawson's relationship with Lyon.
"That's the beauty about Ross, everyone in the team knows exactly what they have to do, and they know exactly what their role is," Dawson says.
"No one has to go out and reinvent the wheel when they go out to play. I know I'm not the prettiest player to watch, but as long as I know that I'm doing my job, I don't worry about what everyone else thinks."
Peter Dawson draws comparison with his son and a footballer in the 1980s named Kevin Walsh, who played for Essendon under Kevin Sheedy.
"Early in his career, he was booed off the ground and the press was always saying he's not good enough," Peter says.
"He ended up becoming an All Australian and a premiership player.
"Sheedy always said the one thing the press failed to realise about Walsh was that he always did what he told him to do.
"That's exactly what Ross says about Zac.
"Ross has been a guiding light, he gave Zac belief, and that's why Zac respects him so much."
The bond between coach and player continues in the west, where Dawson joined Lyon at the Fremantle Dockers at the end of 2011.
Two solid seasons in the heart of the Fremantle defence bookended a surprise 2012 wedding to Sheena in Las Vegas, which he calls the 'happiest and funniest day of his life'.
Dawson only informed his friends, who were on holiday with him, of the wedding plans the night before the ceremony. His mates in turn added their own little surprise, rocking up for the nuptials dressed in fancy dress outfits.
Should Lyon lead Fremantle to the ultimate success, it will be the happiest day of Dawson's professional life.
"It's the pinnacle of your career, something you always strive for, but until we get there, I won't know," he says.
Zac Dawson is training almost every day of the week and playing on weekends, the game he loves is fun, again.