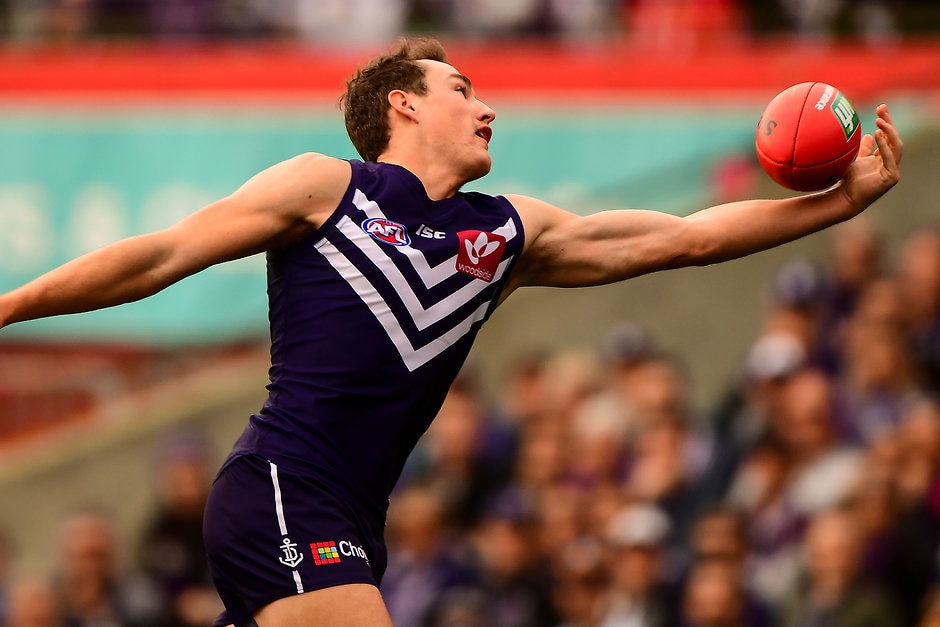 It's no secret that first-year player Brennan Cox has impressed teammate Hayden Ballantyne this year.
A versatile key forward and defender, the 193cm Cox has shown his strong marking abilities in his debut season, averaging 4.7 per game.
Ballantyne has previously called his young teammate a future star, telling The Sunday Times in July that Cox will come into his own "when he realises how good he can be."
Cox has since revealed that Ballantyne is playing a crucial mentoring role behind the scenes.
"I think I'm progressing well, I'm getting a lot of mentoring off the older players, especially 'Ballas' and my coaches," Cox said.
"Every week I go out with Hayden and do some goal kicking and go through my routine.
"On the field, he's a really vocal leader. If I'm not in the right position he'll tell me where to be.
"He's been really important. He's helped me settle in and he's been a really good mentor for me."
While Cox has played primarily as a forward for Fremantle, the 19-year-old has previously stated his preference to line up in defence.
In 2016, Cox was named the All Australian centre half back after representing South Australia in the U18 NAB AFL Championships.
This year, Cox has proven his forward abilities but struggled with accuracy, kicking 4.11.
After kicking 2.0 against Essendon, Cox says he's going to focus on working on his routine through the pre-season, which starts in November.
"My goal kicking is probably my number one thing at the moment," Cox said.
"I'm trying to learn as much as I can off the older players.
"Fitness is probably another big one, speed and probably strength in one-on-one contests.
"When the ball's up in the air, being able to hold one bloke out and trying to take a clunk is really important."
Cox says he's looking forward to the experience of playing for Peel in the upcoming WAFL finals series.
"I can't wait to play in the WAFL finals," Cox said.
"Hopefully, we make it all the way. We'll take it week by week and compete."
The views in this article are those of the author and not necessarily those of the AFL or its clubs