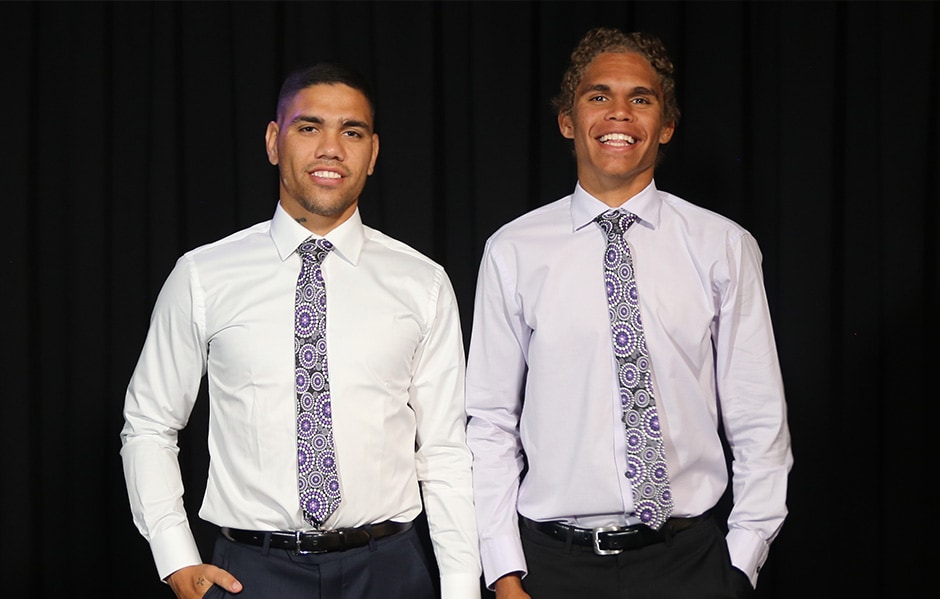 Next Generation Academy concession Liam Henry did more than just use his week at Fremantle in early December to learn about life as an AFL footballer.
The year 11 boarder at Christchurch also introduced his business 'Tied to Culture' to the club, which sells indigenous-inspired ties.
Hailing from Derby, 2100km north of Perth, Henry is a part of Fremantle's NGA which has a focus on Indigenous talent from the Kimberley region.
During his week of training at the club, Henry also did a photoshoot with his Freo-inspired purple tie with Michael Walters.
When senior coach Ross Lyon saw the tie, he asked where he could buy one so he could wear it to the Fremantle Dockers Christmas Gala Ball.
"Liam's an NGA players for us and he's a special young aboriginal man, " Lyon said during his Q&A at the ball.
"He was walking through and he had this brand new tie on and I asked him about it and he said he's started a business with two of his aboriginal classmates.
"I asked if I could get one to wear tonight.
"He said all the dots represent gathering places and I thought it was really appropriate to wear as the Docker community to gathers tonight."
Henry said they've sold more than 700 ties in their opening month of business.
"Being involved in the Fremantle NGA, I decided to do a purple one and I got Bradley Hill and Michael Walters to do some modelling for me," Henry said.
"We did the ties for school during NAIDOC week and we realised that there aren't that many indigenous ties around Australia. Everyone's been really supportive of the idea.
"Through sales of the ties, we're also donating proceeds to charity. Our pink ones are for Pink Ribbon. The blue on for Beyond Blue, the indigenous ones to Madalah and the purple one raises money for Starlight."
The views in this article are those of the author and not necessarily those of the AFL or its clubs