Nine Fremantle-listed players were in action in round 10 of the WAFLW. 
Senior coach Trent Cooper runs through his thoughts on the round.
Claremont 4.5 (29) def East Fremantle 4.3 (27)
This was a really good game and Claremont have been building towards this. The Tigers were probably regarded as the fourth-best team coming into the season but they've been building and they had a really good win against East Fremantle. They dominated the game, they had a lot more inside 50s and got the job done. 
Jasmin Stewart (Claremont)
Jas suffered an ankle injury, and although it wasn't a bad one, it did limit her. She tried to get back out there, and it was really brave of her, but she was just too limited. This was a rare game where she didn't have a huge impact, which is a good sign for Claremont, as she's been one of their best players this year. 
Laura Pugh (Claremont)
Laura was best on ground playing in the midfield. She had a heap of inside 50s and she pushed into the backline as well, where she took a game-saving mark. We're really pleased with her performances this year and this game will give her confidence going into the AFLW pre-season.
Gabby O'Sullivan (East Fremantle)
Gabby was used forward for most of the game and she did spend some time on ball as well. She started well, but East Fremantle didn't get a lot of ball forward, so she was out of the contest a bit. Gabby did finish the third quarter strongly. 
Gabby O'Sullivan in action for East Fremantle. Pic: Tom Campbell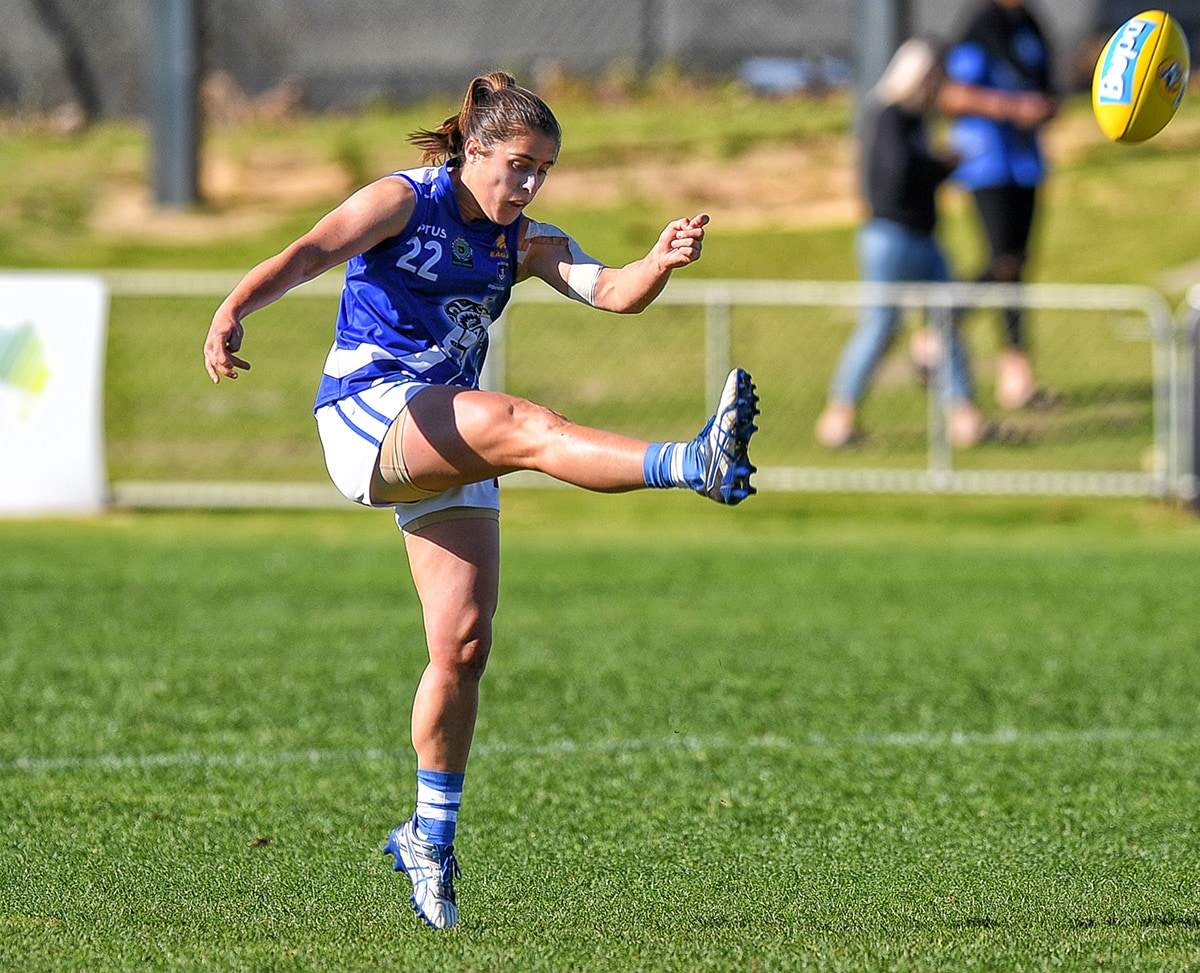 Evie Gooch (East Fremantle)
Evie continued her great form in the midfield, playing more of that quarterback defensive sweeper role. She got some good kms in the legs and lots of possessions. She's playing really well, so we're happy with her progress. 
Peel 2.0 (12) def by Subiaco 7.14 (56)
This was very much a one-sided game. Subiaco kicked 7.14, so it could have been won by a significantly bigger margin if they had kicked straighter. 
Tayla Bresland (Peel)
It also would have been a bigger margin had Tayla Bresland not been out there for Peel. Tayla took 10+ intercept marks and she used the ball really well. She had a shaky start where her opponent got a hold of her for the first five minutes, but she rebounded really strongly from that. When the ball went forward for Subiaco, Tayla was the one halting their progress. It's good to see her go back to her familiar role after playing forward to start the season. She'll stay back there for the rest of the year, which will have her primed for the start of the AFLW season.
Katie-Jayne Grieve (Peel)
Katie-Jayne didn't have a huge impact in the game but we did like the way she tried to take the game on a couple of times. Subi were very much onto her as well, so we're still looking for her to build in the back half of the season and have a bigger impact. 
Sabreena Duffy (Peel)
Sabreena is still building from an ankle injury and she didn't have much impact on the game. She is working on getting her conditioning right to be at a level where she can perform and we hope that can happen in the next few weeks. 
Hayley Miller (Subiaco)
Had a really quiet first half by her standards but in the second half, she was really good. Hayley used the ball as well as I've ever seen her, she hit up her teammates well and she gave Subiaco that drive. She finished with a goal and her form has been great all year. 
Lindal Rohde (Subiaco)
Lindal keeps going from strength to strength. She probably had her most possessions for a game, especially in the second quarter where she had about a dozen touches and six inside 50s. She's been going really well and we love the way her season had been building.