It was a night of celebration for Fremantle's inaugural AFL Women's season.
Players, coaches and special guests gathered at Ambrose Estate in Wembley Downs for the awarding of the 2017 AFL Women's Fairest and Best.
The night started with the glitz and glamour of the purple carpet.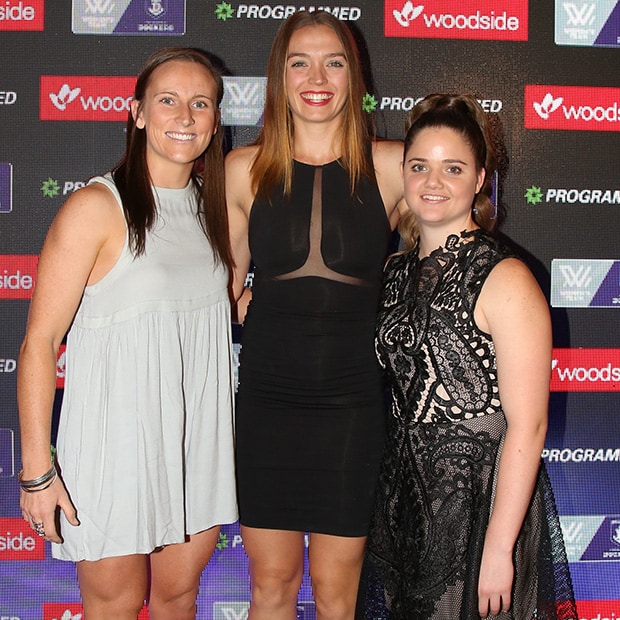 Kara Donnellan, Ebony Antonio and Lara Filocamo

Senior coach Michelle Cowan with her husband Chris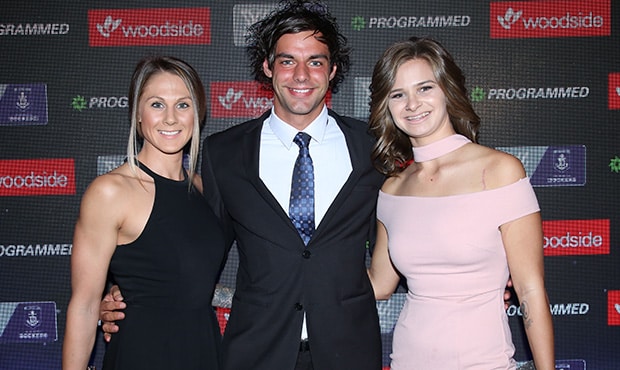 Mel Caulfield, Brady Grey and Tiah Haynes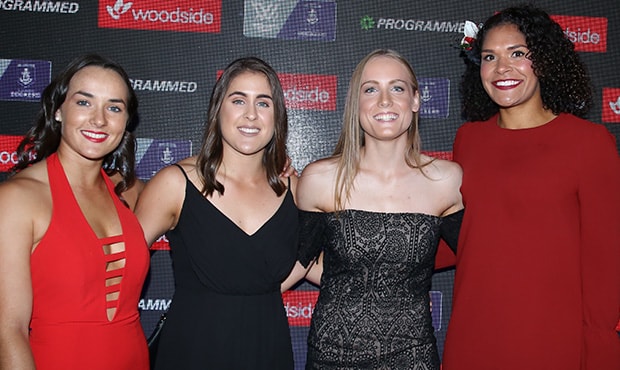 Emily Bonser, Gabby O'Sullivan, Stephanie Cain and Alicia Janz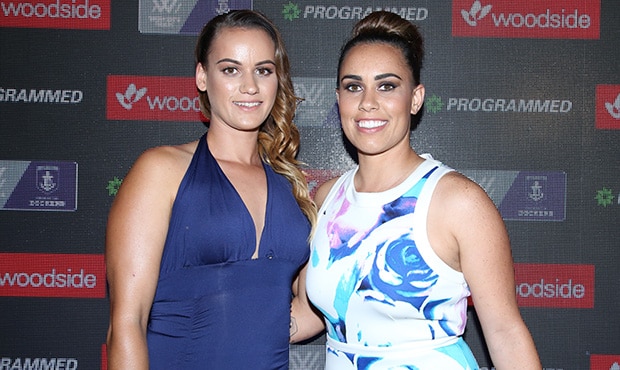 Gemma Houghton and Kirby Bentley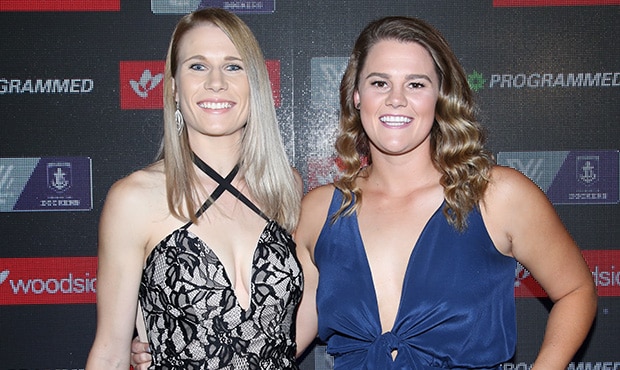 Dana Hooker and Stacey Barr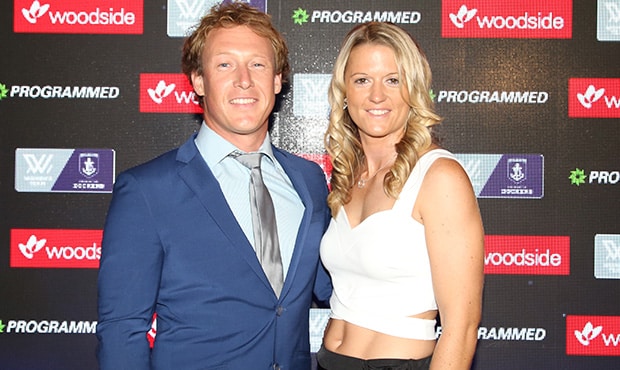 Jay and Amy Lavell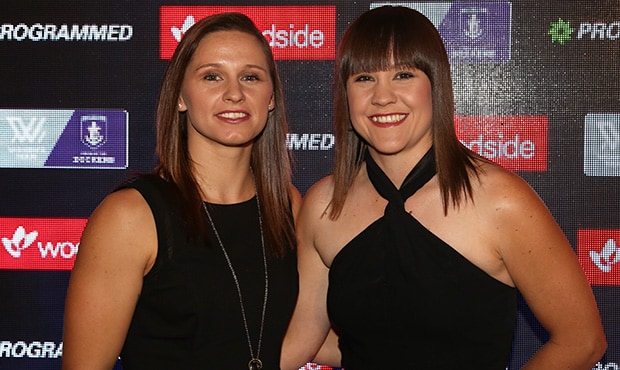 Kiara Bowers and Adele Coxall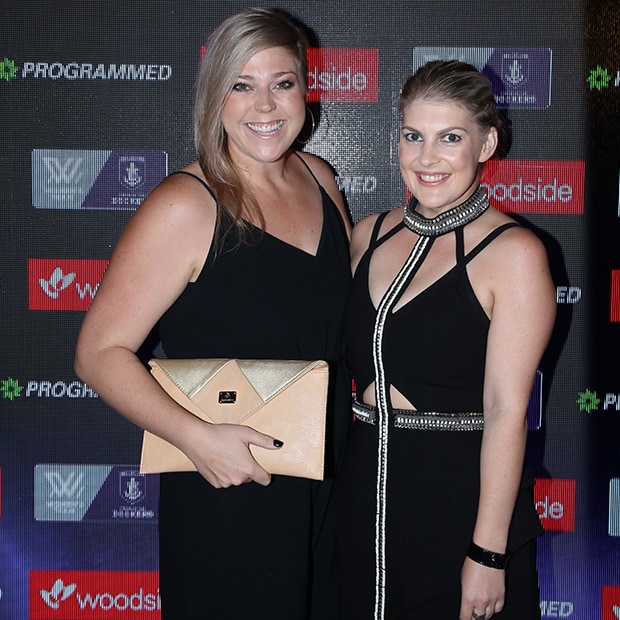 hit92.9's Heidi Anderson and Amanda Lee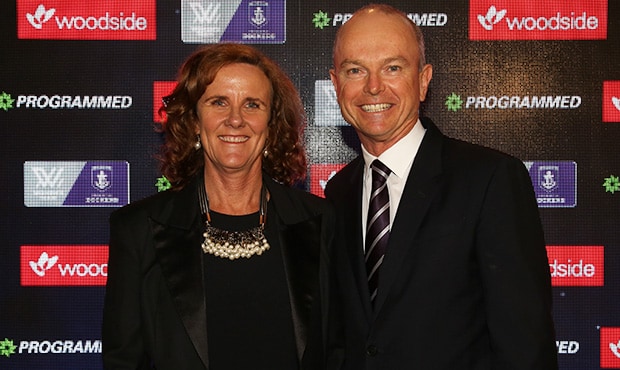 Jan and Dale Alcock

Melissa and Steve Rosich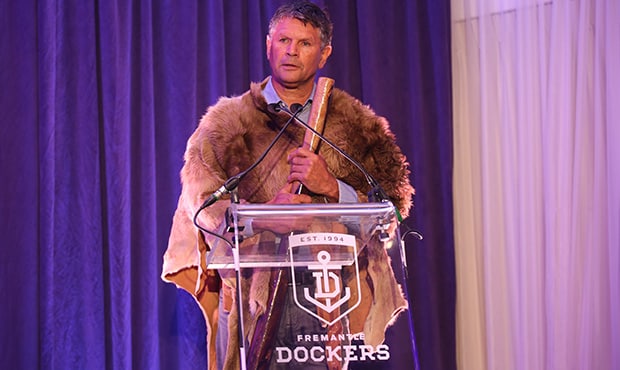 Fremantle's no.1 ticket holder Richard Walley performs our Welcome to Country
Senior Coach Michelle Cowan kicked things off with her address.
"It's great to see everyone here, it's a fantastic night to celebrate our players' achievements in what has been an exciting year for the footy club," Cowan said.
"This time last year we had one AFL team, we move forward to tonight and we have two AFL teams.
"We're both driven to be highly successful and write our own story and create history.
"It's an exciting time for football and it's been a big occasion for Fremantle."
Cowan was present to award the Players' Award to captain Kara Donnellan.
Donnellan said she was humbled to be honoured by the playing group.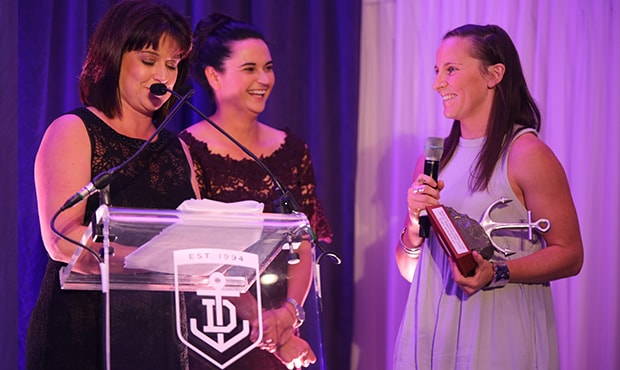 "Thank you so much to the players for voting for me, they're a group of amazing people and a group of amazing footballers," Donnellan said.
"I was lucky to lead you all out in the 2017 season.
"As this is voted by some of my best mates, this is up there with any award I've won.
"It's been a rollercoaster journey and I've loved every second of it."
The award for Best Clubwoman was announced after dinner, with Amy Lavell honoured for her work with the team and behind the scenes.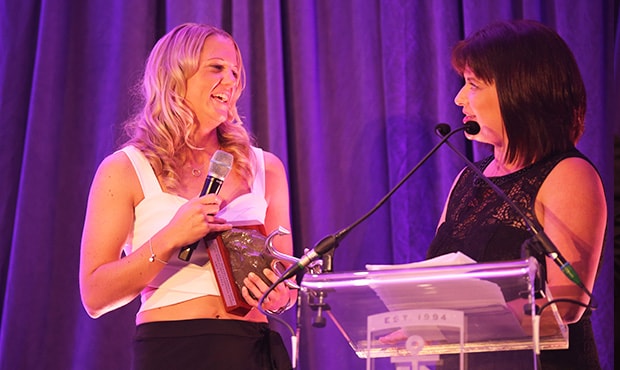 Amy Lavell accepts the Best Clubwoman Award
"I'm surprised but especially humbled to be held in a high esteem by the players and the staff," Lavell said.
"I'd like to thank my teammates, it's been a fantastic first season and I'd never dreamed of being in a position to accept this award.
"It's been great to play with them for a full season and to get to know them, not just as teammates but life-long friends."
The main event followed with the awarding of the top three in Fremantle's Fairest and Best.
Lara Filocamo placed third with 56 votes and gave a special thanks to Fremantle assistant coach Martine Pearman.
"She's taught me a lot mentally and physically and she's changed me as a person," Filocamo said.
"She's put a lot of time and effort into me and is one person who's always been there.
"We've had our ups and downs, but I love her."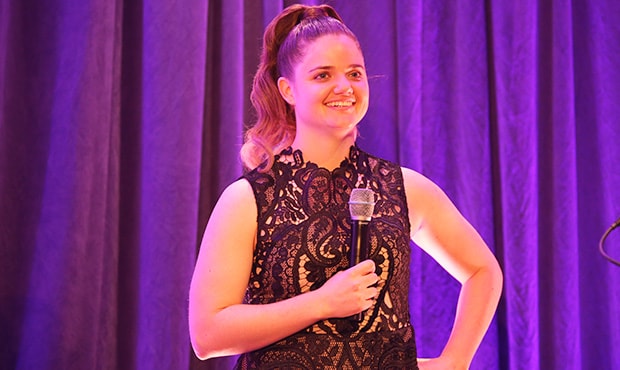 Third placed Lara Filocamo
Placing second was a very gracious Kara Donnellan, who spoke of her celebration when she kicked the goal that iced Fremantle's first AFLW win against Carlton.
"Someone asked me if I had tears in my eyes, and to be honest during that celebration I just let everything out from the previous five games," Donnellan said.
"I suppose the whole journey that we've been on, it was so great to be a part of that first ever win, it goes down in the history books that's for sure."
Finishing just one point ahead of Donnellan was an almost disbelieving Dana Hooker, who was crowned as Fremantle's inaugural female club champion.
"I'm a little bit excited and a bit overwhelmed. It's a bit unexpected," Hooker said.
"I thought after the first few rounds I was out of it. I might have had a strong second half of the season but I didn't expect that!"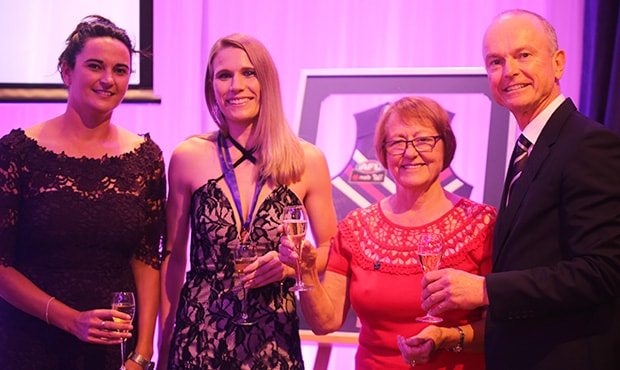 Hooker accepts her award
Hooker thanked many people close to her in a heartfelt speech.
"I'd first and foremost like to thank my family who are here tonight," Hooker said.
"They've been a constant support for me and I wouldn't be in this position if it weren't for them.
"I'd like to thank Michelle (Cowan) for everything she's done for me as well as Wade (Splicker) for his work behind the scenes. He really does everything for us as well, on top for his advocacy for women's footy.
"All of the other coaches have been brilliant, and definitely to my teammates.
"I've made some great friends at Freo already and this is just going to continue on. It's like nothing I've had before and I can't wait to keep going with this team."
"I can't wait for next year as I really feel that there's something good brewing."