READ UP ON THE 2019 DRAFT CLASS
CALEB SERONG
Caleb Serong got knocked down, but he got up again.
The midfielder was playing for Geelong Grammar against rivals Brighton Grammar, coming off a NAB AFL Under-18 Championships for Vic Country that saw him named an All Australian. Serong had little left to prove.
But in the second half, Serong was on the end of a heavy hit, grounded after a kick in the back half. Recruiters at the game had their eyes zeroed on Serong's reaction.
Serong didn't flinch, returning to the play, laying a bump on the opponent who dished it out, and then proceeding to play a starring role in his team's stirring tight win.
"You really saw that hunger inside him to compete and compete and compete," one scout said. "He did that all year."
The 179cm Gippsland Power prospect had a brilliant under-18 season, showing he can impact games in the midfield with his power and strength, and then when he goes forward his ability to mark overhead and be classy at ground level.
It has seen Serong draw comparisons from recruiters to a Port Adelaide star.
"I love watching Robbie Gray at AFL level. He's a ripper forward and midfielder too, so he has those two strings to his bow and can do those two things really well," Serong told AFL.com.au.
"Toby Greene and Devon Smith are another two who can play well in both areas so are fantastic players.
"I'm a midfielder who can go forward. Long-term I'd love to play in the midfield and that's where I think I can play my best footy, but I can also go forward and play that high half-forward role.
"Around the footy I'm quite clean and have some real intensity around the footy in terms of pressure."
All of that was on display throughout 2019. Serong's numbers stack up, and he averaged 24 disposals, seven clearances and a goal for the Power in the NAB League.
He was also a consistent member of the Vic Country side that he co-captained, where he averaged 23 disposals. Serong said he had managed to ignore the hype about being an early pick.
"It's all noise but for me it was all just focusing on footy and taking it step by step. Whether it was the training session ahead of me, or the gym session or the game, or whether it's just class, I wanted to be in the present and live in the moment," he said.
"That's allowed me to focus on what I'm doing and not think too far into the future."
Serong grew up in Inverloch in Victoria's south-east, before shifting to Geelong Grammar at the start of last year, where he will finish Year 12 this year.
The 18-year-old has taken school seriously with an eye to study commerce next year, but he's also kept an eye on the draft order as next week draws closer.
"It is hard not to look at what clubs are around the pick. But in the end nothing's set in stone, you never know where you're going and a lot can change," he said.
MATT ROWELL
You would have heard a lot about Matt Rowell by now, but here's three things you might not know about the likely No.1 draft pick: he loves gardening, he listens to The Veronicas before games and he collects footballs.
The third point wouldn't surprise too much, given he has barely been sighted without the ball in his hands this year, in what has been one of the most complete and consistent under-18 seasons in recent memory.
But the extent of his collection goes further than you might think.
"I'm up to about 25 Sherrins at home now," he told AFL.com.au. "The collection started in year six, and I couldn't really stop getting them. You can never have enough."
Rowell couldn't get enough of the ball this year, either. He averaged 33 disposals and eight clearances for the Oakleigh Chargers in the NAB League, and 25 touches for Vic Metro during the carnival.
He didn't play a bad game all season, leading the Chargers to their premiership win (he claimed best afield honours in the Grand Final for the second year running), helped steer his school Carey Grammar to a flag and was an All Australian for his under-18 championships.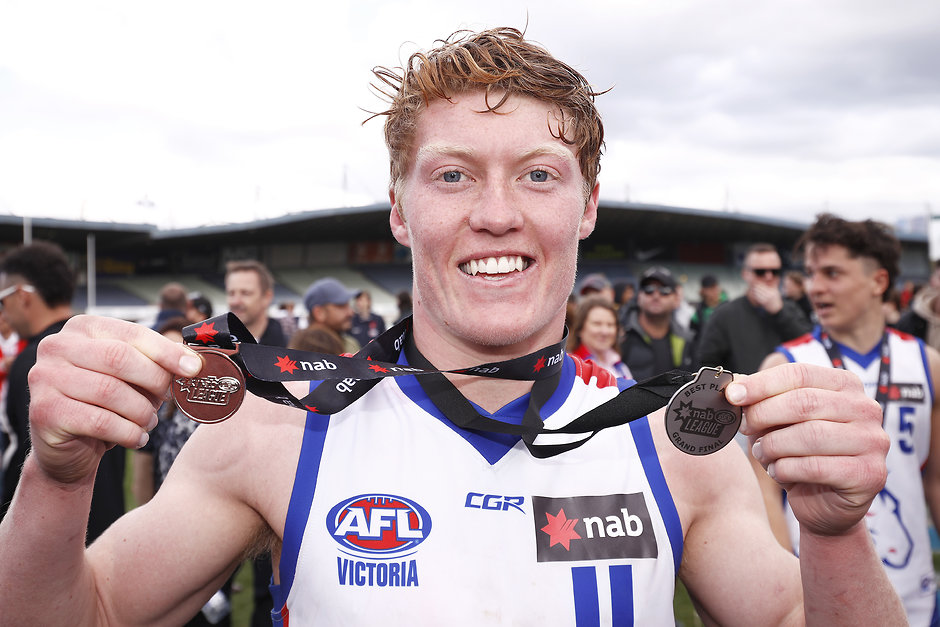 All of which is set to lead him to Gold Coast as the Suns' No.1 pick next Wednesday night when the first round of the NAB AFL Draft is held at Marvel Stadium.
But let's get back to the things you might not know about Rowell, including his green thumb.
His love for the outdoors started at an early age, and has grown so much that if he wasn't on the cusp of an AFL career, he thinks he would have pursued gardening.
"I like my gardening, I get outdoors in the front and back yard a lot. I've planted some roses, gardenias, camellias, so it's one of my big hobbies outside of footy," he said.
His close mate Noah Anderson – and likely to be the No.2 pick to the Suns next week and join Rowell in Queensland – gave Rowell a Blue Moon rose for his 16th birthday present.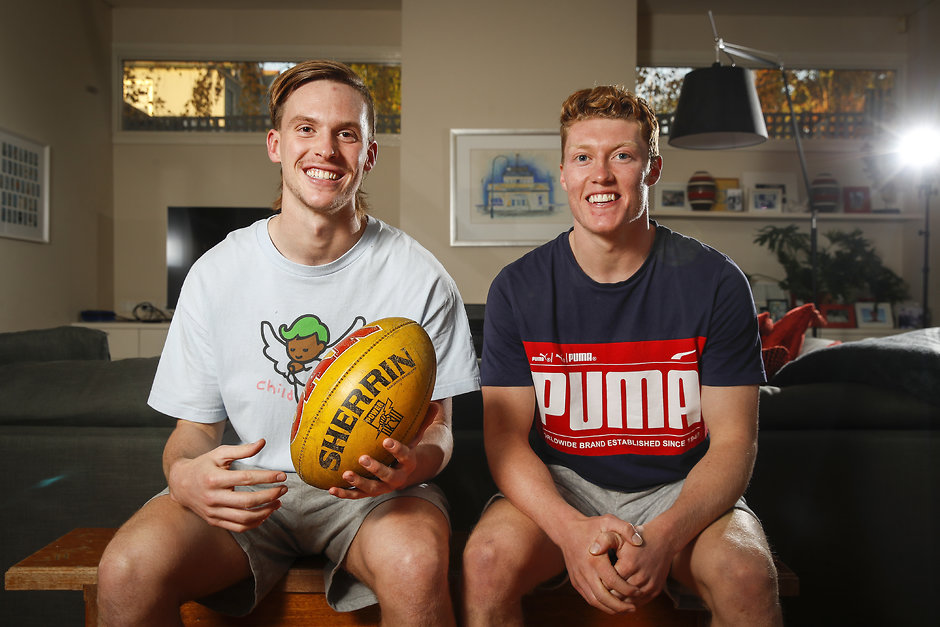 Anderson says Rowell has loosened up in recent times, managing to separate his on and off-field pursuits. That maybe – perhaps – explains the choice of the violin-inspired Untouched by Australian sister act The Veronicas as Rowell's pre-game pump up song.
"I'm pretty relaxed outside of footy but once I get out onto the field I'm pretty intense and I'm in the zone," the 18-year-old said.
Rowell idolises Geelong champion Joel Selwood and has won plaudits for playing in a similarly uncompromising manner: he's tough, powerful, strong, consistent, durable and stands up when his team needs him and in every big game.
Half of Rowell's possessions this year were won in contested situations, and he says that comes down to one thing.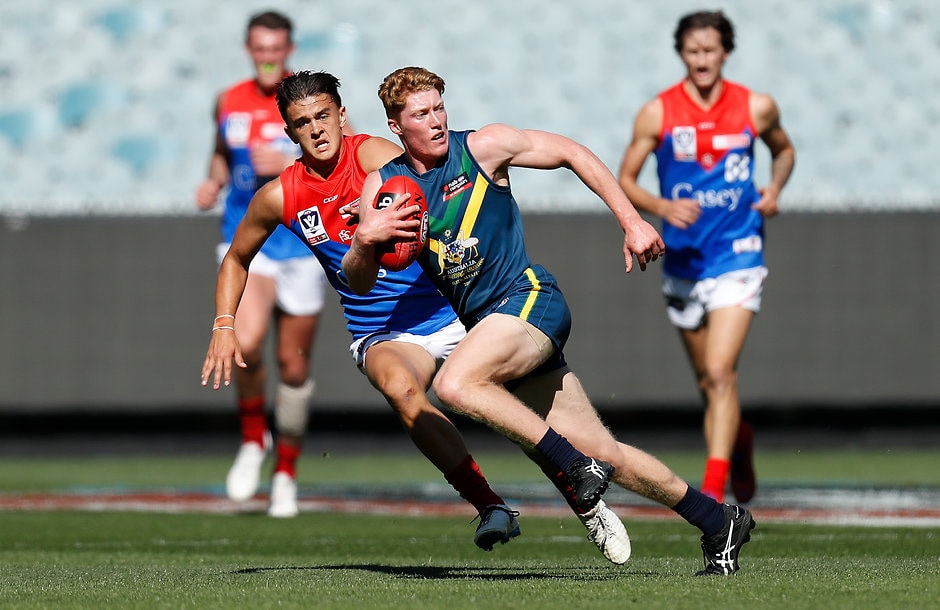 "The main thing is the mindset of wanting to win the ball more than your opponent. You've got to have good body positioning, which you learn about at training, but the mindset is probably the key thing and wanting to win the ball more than anyone else," he said.
"I try to pride myself on consistency and making sure I generally play reasonably well, even when I'm having not a great day – I still want to play at a good standard at least."
Recruiters have been wowed by Rowell's level of performance, and he carried that through to the NAB AFL Draft Combine, where his athletic traits showed out. He was in the top performers for the endurance tests (level 21.3 in the Yo-Yo and 6:17 minutes for the 2km time trial) and he ran 3.05 seconds in the 20-metre sprint.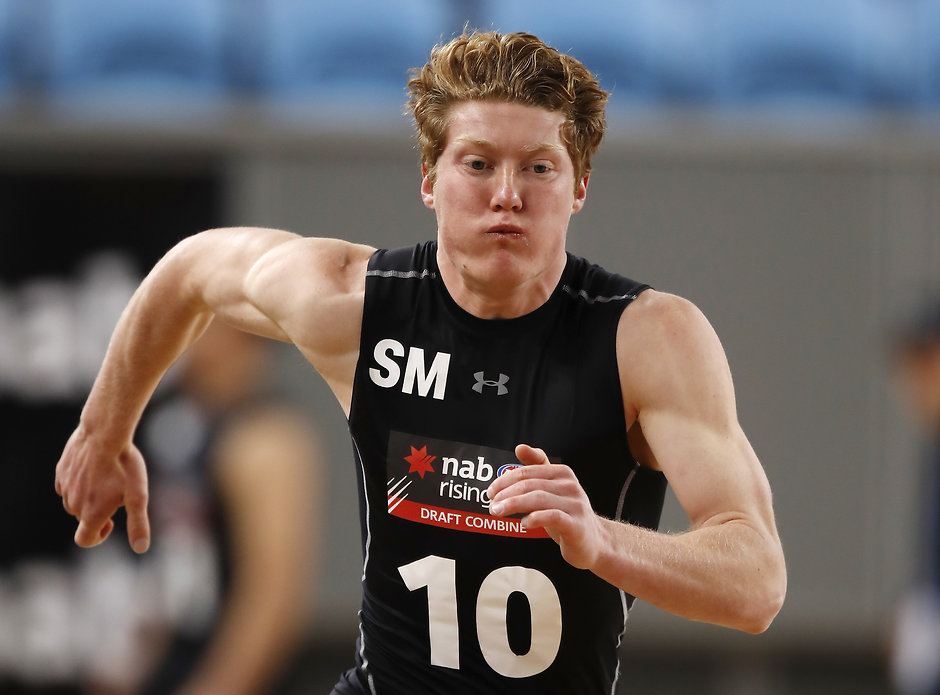 "It would be a massive honour to go pick No.1. I've worked reasonably hard to give myself a chance to get where I am now, so it would be something that I've worked hard towards for a while," he said.
"If I was lucky enough to get picked up by the Suns I'd really enjoy it.
"The interviews I've had with them have been very positive, they've involved my family really well and that's a big thing for me. I think I'd enjoy the opportunity and take it head on."
Barring injury, Rowell will be expected – and expecting – to have an impact at AFL level immediately in 2020. He's also committed to maintaining his trademark tucked in jumper throughout his AFL career, having grown fond of the look over the years.
"It started a long while ago. I tucked my shirt in when I was playing for the Canterbury Cobras. It's always been a thing that I've done naturally, and some of my coaches have said it's actually a good idea because it makes you harder to tackle. I've gone with it ever since," he said.
"There's not many who do it. I reckon it's a good look, to be honest. A bit of the old style, I reckon it suits."