It started with a planking session and ended with 40 minutes of weights in the gym.
After years of never knowing, and then waiting for an AFL Women's League, the Fremantle Dockers AFLW side were put through the ringer on Tuesday night.
And by the looks on their faces, they wouldn't have it any other way.
There was a sense of occasion as fans and media gathered at Fremantle Oval.
When the clock ticked past 6pm, priority-pick Kirby Bently emerged from the change-room to lead the side onto the ground.
The crowd cheered and the team song blasted from the PA system.
There was a brief huddle as the girls took the moment in, and then the trainers took over.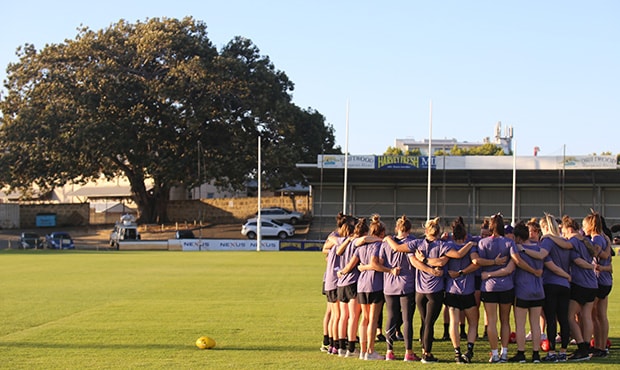 The girls laughed and chatted as they went through an arduous stretching routine.
Then came the running that is synonymous with any pre-season training session
First, it was sprints, and then a brutal time trial.
Dana Hooker, a proud mum of five-month old Alice, raced out of the blocks and led the first two laps before Gemma Houghton took over late to win with Hooker in second.
Houghton, sister of former Fremantle Docker Joel Houghton, has never played a game of competitive footy in her life - but it didn't show, as she exhibited elite pace and agility with and without ball in hand.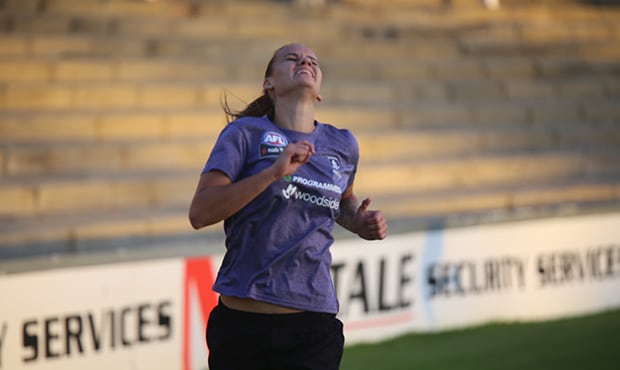 Gemma Houghton feels the pain after shaving over half a minute off her personal best
Priority pick Ebony Antonio and marquee player Kara Donnellan came in soon after, with Donnellan also impressing throughout the night – justifying her moniker of "Juddy".
The girls split into groups, as the ball skills session ramped up. Both head coach Michelle Cowan and assistant coach Paul Hasleby got the group together near the end of the session to provide feedback – but they weren't done.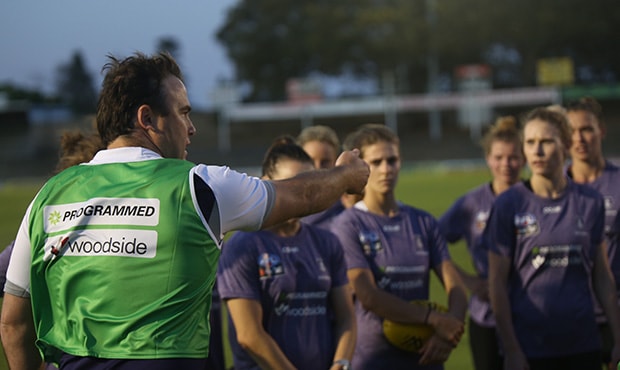 Paul Hasleby adresses the group
As the clock ticked towards 8pm, the team headed into the gym.
Two groups rotated between injury prevention stretches and a weights session, with bench-presses and the squat rack featuring heavily.
The atmosphere in the small confines of the gym was electric, but it is only the beginning
There's just over three months to go until bounce-down in the AFLW's inaugural season.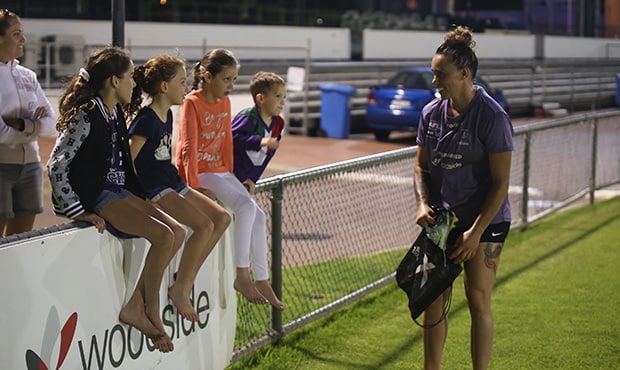 What it's all about - Kirby Bentley chats to fans