At the end of 2014, three budding young footballers in Lachie Weller, Ed Langdon and Connor Blakely, converged on Freo from across the country after being selected by the Fremantle Dockers in the AFL National Draft.
Weller made the move from Queensland after being selected with pick 13, Langdon (pick 54) moved from inner city Melbourne, while Bunbury-boy Blakely had some familiarity with the area, having been recruited from Swan Districts with pick 34.
Moving interstate at a young age can be a daunting experience, especially when combined with the challenge of transitioning to AFL football, but Langdon said Blakely's familiarity with WA was a great help.
"It actually turns out I met Connor at the draft camp, but neither of
us remembered it until we were drafted together," Langdon laughed.
"All three of us had a brief conversation when we got to the club and we got along really well from the first day.
"Lachie and I were living with a host family and Connor was living with family in City Beach who we got to know. We were eventually going to move closer to our footy, so we all decided to move in together near Freo."
Talking points: Rd 13 v Port Adelaide
Being a WA boy and having already experienced the move from Bunbury to Perth, Blakely said it was important to make Langdon and Weller's move west as seamless as possible.
"If the roles were reversed, I know they would have done the same for me," Blakely said.
"I had plenty of family living around Perth, so to be able to take them over there and have dinner was good and it allowed them to speak with people outside of footy, which is pretty important.
"If you're just meeting people within the football world it can get a bit repetitive, so having the opportunity to meet my friends and family gave them an opportunity to refresh away from footy."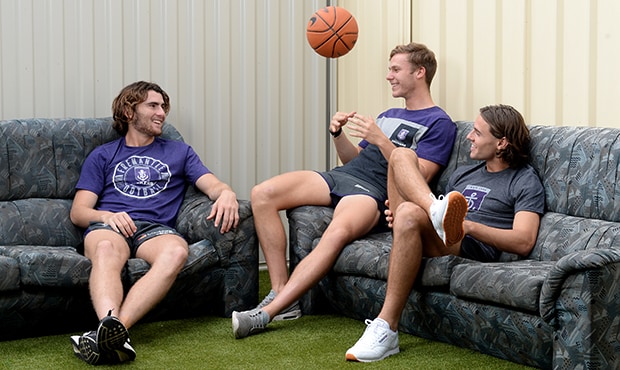 Transitioning from under-18 competition to the AFL environment always poses its challenges, but Langdon said being able to share the experience with his housemates was invaluable.
"You're never going to be absolutely ready for an AFL pre-season, no matter where you come from," he said.
"You get home from training, you're absolutely knackered and all you want to do is sleep, but we all kept each other accountable in our down time.
"It was pretty tough, so we all rode the highs and lows of that together."
Weller said being able to go through their first pre-season 
as a collective was beneficial and its significance has only been magnified now they've spent more time together at the club.
"The first pre-season was definitely very tough," he said.
"But it's all the more rewarding now that we've got to the stage where we're able to push to play football together.
"We've been through it now and are definitely better players for it."
While their first pre-season together strengthened their friendship 
and their resolve, there are still moments of competitiveness between the three.
TABtouch 22: Big return for Port clash
As professional athletes, they're often on edge, unwilling to back down and as you walk out of the main hallway of the house into the living area, you can't help but notice the centrepiece of their household competitiveness.
"We're a pretty competitive bunch," Weller said.
"When we first moved 
in we had the choice of a Playstation 4 or a ping-pong table, and we like to test each other, so we went for the table."
While the most animated confrontation between 
the three may result from deciding who's given the role of referee, Langdon said the competition does have the propensity to spill over into other sports.
"As you can imagine, some of the table 
tennis games get pretty competitive between us," he said.
"We're always looking for ways to compete, whether it's shooting a basketball around or throwing the American football, we usually find a way to make it competitive."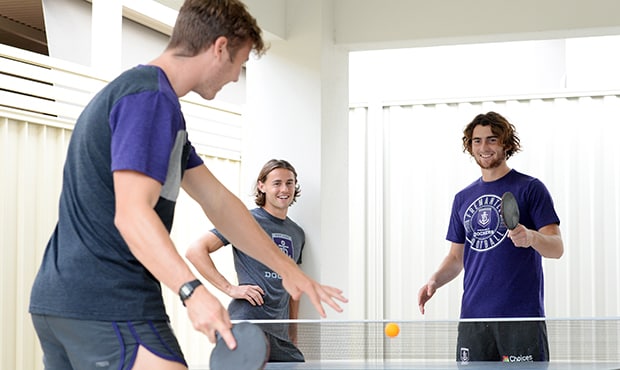 Blakely said his own personality, combined with the sporting background
 of both Weller and Langdon made competition inevitable.
"We all love our sport and live an active lifestyle and obviously they're from a pretty good pedigree with both Lachie and Ed's brothers 
in the AFL," he said.
"Out on the track we push each other a fair bit and that transitions into our living situation, so I guess it was meant to be."
The competition in the household isn't just reserved for sports but also for fridge space.
Stuck to the front door of the fridge sits an old edition of the WAFL Football Budget with Blakely in full stride, footy in hand, with Weller in support.
Intruding on their cover photo is
 a roughly cut out image of Langdon playing for Peel Thunder that he had cut out of the same magazine, and stuck next to them on the fridge.
The image of all three side by side on the fridge door in Peel Thunder colours provides a constant reminder of not only their friendship but also the importance of their first year playing together.
Whether it's the 45 minute drive to Mandurah, or the northern expedition to HBF Arena in Joondalup, the three made the most of their time in the WAFL and it has proved to be crucial to improving their friendship and football.
"Playing together for Peel has been huge, it was probably the biggest part of the growth in our relationship," Langdon said.
"Obviously, we all wanted to be playing for Freo at the time, but we all knew we had to bide our time and earn our spot, so we ended up playing together with Peel for about three quarters of last year.
"You become pretty close mates when you're playing and driving all over Perth together."
Freo looking to build against "hungry" Port Adelaide
Blakely championed Langdon's assessment of the importance 
of playing together at Peel, but disagreed with his recollection of who did most of the driving.
"You work out their strengths, weaknesses and it's an invaluable experience to play WAFL together and help us transition to AFL" he said.
"We had a rotation policy with the driving to and from the games.
"But recently, Ed wanted to institute the "rock off" policy to see who drives because he obviously backs himself in paper, scissors, rock, so more often than not we do that now."
In 2015, after 17 rounds of waiting, the household received its first debutant with Lachie Weller selected to face GWS in round 18.
Weller said after becoming
 so close with both Langdon and Blakely, he felt strange being the first to receive the senior call up, but his fears were quickly alleviated by the support given by his teammates.
"When I first moved in I thought it could get a bit competitive, like if one or two of the guys are playing AFL and the others aren't, but we never had any of those clashes," he said.
"They were really excited for me and that goes throughout the house, we're all thrilled for any little or big win we have."
Langdon's debut came against Melbourne in round 22, while Blakely followed in round 23 against Port Adelaide.
Langdon said for the entire house to go from WAFL players to AFL debutants in the space of a little over a month was a memorable experience.
"It's a pretty special moment because you all ride the journey together," he said.
"You feel proud of them because you're aware of how much work they've put in, especially being with them 24/7.
"Lachie debuted first, then myself and Connor, it was nice having all our first games together and it was a pretty excited household over those few weeks."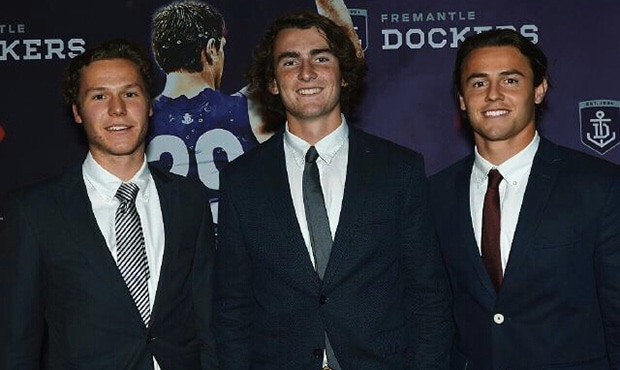 Now, midway through the
 2016 season, all three have played at AFL level and it seems there is very little time for reflection about their journey, according to Weller.
"You get a lot of people saying that this is probably the best time of your life, so we try to reflect a bit when we have the time," he said.
"That being said there'll be plenty of time to look back on it when we're older and I'm sure we'll look at it as a pretty special time in our lives."
Langdon said it was important that each of the three young Freo Dockers were aware of the opportunity they had received.
"It's an amazing situation," he said.
"We're all striving for the same goal and we're aware that not many people get to be in this situation, so we're very grateful for the opportunity."
While he acknowledged the periods of reflection are often exciting and always humbling, Blakely admitted the goals of the Freo youngsters lie further than just being able to say they played together.
"We want to play a lot of AFL footy but the coaching staff are never going to hand out games just because we're young," he said.
"We have to earn it and we're fully aware of that.
"We've all had fairly good opportunities so far and hopefully we'll play a lot of good footy together for the rest of our careers."