In this final story of our four-part series, we take you behind the scenes at the 2019 NAB AFL National Draft, held in Melbourne between Wednesday 27 November and Friday 29 November. Missed part three? You can read it here.
Imagine a team winning the grand final, and returning to training the next day. 
After working tirelessly on the draft class of 2019, Freo's recruiting team turn their focus to 2020.
Immediately after the rookie draft - where Freo pick up Peel Thunder's Jarvis Pina - Victorian recruiting manager Ed McMullin boards a plane from Melbourne to Adelaide. 
He's off to Port Augusta, more than 300km north of Adelaide, to watch some 16 and 17-year-olds train at the SA hub camp. Then it's the WA hub camp, the Vic Country hub camp and so on.
2020 draft hopefuls in action at the SA hub camp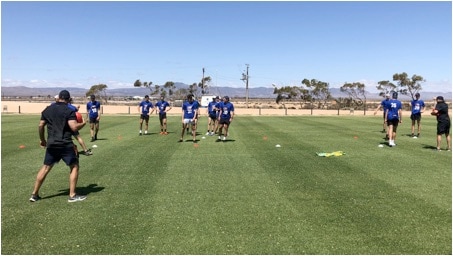 "We're immediately onto the 2020 draft and getting to know around 120 to 130 players really well over the next 12 months," says national draft manager David Walls.
Some are still working on the class of 2019.
After selecting Michael Frederick at no.61 at Marvel Stadium on Thursday night, senior coach Justin Longmuir and WA recruiting manager Tim Goodwin were knocking on his door in Adelaide on Friday morning.
On Saturday, Longmuir returns to Melbourne and drives 60km south-east with Walls and Victorian draft manager David McMullin to visit Hayden Young and his family.
They then drive an hour further east to Warragul to visit Caleb and the Serong family. 
It's a buoyant club after a successful draft. Fox Footy gives Freo's haul an A+ grading. Stories and videos on fremantlefc.com.au focus on the incredible potential of the seven new faces.
There is a saying in the industry, 'everyone feels like winners after the draft'.
It's a caveat that states – we did the best we possibly could with the knowledge we have now.
What really matters is what happens in three, five, 10 years.
It's also a draft cliché to talk about how you got a 'steal' and how you 'can't believe this player slid to our pick'. 
And with that in mind…
After round one was completed, draft expert Callum Twomey ran a story on AFL.com.au about who recruiters would have selected if they held pick no.3.
Six of the 12 recruiters said they would have taken Hayden Young. 
Yet somehow, Freo got the skilful half-back at seven.
"Hayden was always touted in that top three bracket," Walls said.
"Talking to recruiters straight after the draft, we had many say they would have taken Hayden at two, I even had someone tell me they would have taken him at one.
"Probably the biggest surprise was that he was still there at seven. If you had told me that a week or two before the draft, that we could get Young, I would have said there was no chance."
Caleb Serong, Freo's pick at no.8, was also expected to go much higher in the early draft projections.
"I think Caleb was rated really highly by everyone and some clubs had him very high. I had some clubs say they rated him at three," Walls said.
"We also had Liam Henry rated really highly as well. We were absolutely thrilled to get the three players with the picks that we had."
This isn't backslapping from Walls. It's more a feeling that Freo had the right picks at the right time.
It's partially a sign of shrewd pick trading - making sure you hold the picks that allow you to get optimum value for the players you need.
Walls explains how Freo got players who, at times, were touted as top-three talents.
"It was just one of those drafts," Walls said. 
"It was very even early, so it was a needs-type basis that saw clubs take who they did.
"Luke Jackson (Melbourne's selection at three) is a really rare and special player, but he's a ruckman. As not every club had those needs, he wasn't rated as highly by some clubs in their initial rankings.
"Fischer McAsey, who the Crows took at six, was the best tall in the draft. If you needed a tall player, that's where you had to pick him.
"It's reasons like these, that explain why players like Caleb and Hayden drifted out a fraction from where many of us rated them."
While the focus is on Freo's top-10 selections, there is also a lot of excitement around Isaiah Butters and Leno Thomas, the two Next Generation Academy players signed as Category B rookies. 
Thomas isn't just a graduate of the NGA, he's also graduated from another 'academy' that has previously brought through Freo's NGA players – Gecko Contracting. 
"Leno has worked really hard for his opportunity. He's been really good off-field and working really hard with Aaron Sandilands and his lawn mowing business," Walls said.
"He's just really committed himself to the work he did with Tendai Mzungu in the NGA.
"Izzy (Butters) is just an excitement machine. He's good friends with Liam Henry, they boarded at Christ Church and they're really close.
"He's just a super talented player that has a huge amount of scope. If we can get him fit and strong and conditioned to AFL footy, we'll have a really impressive player on our hands.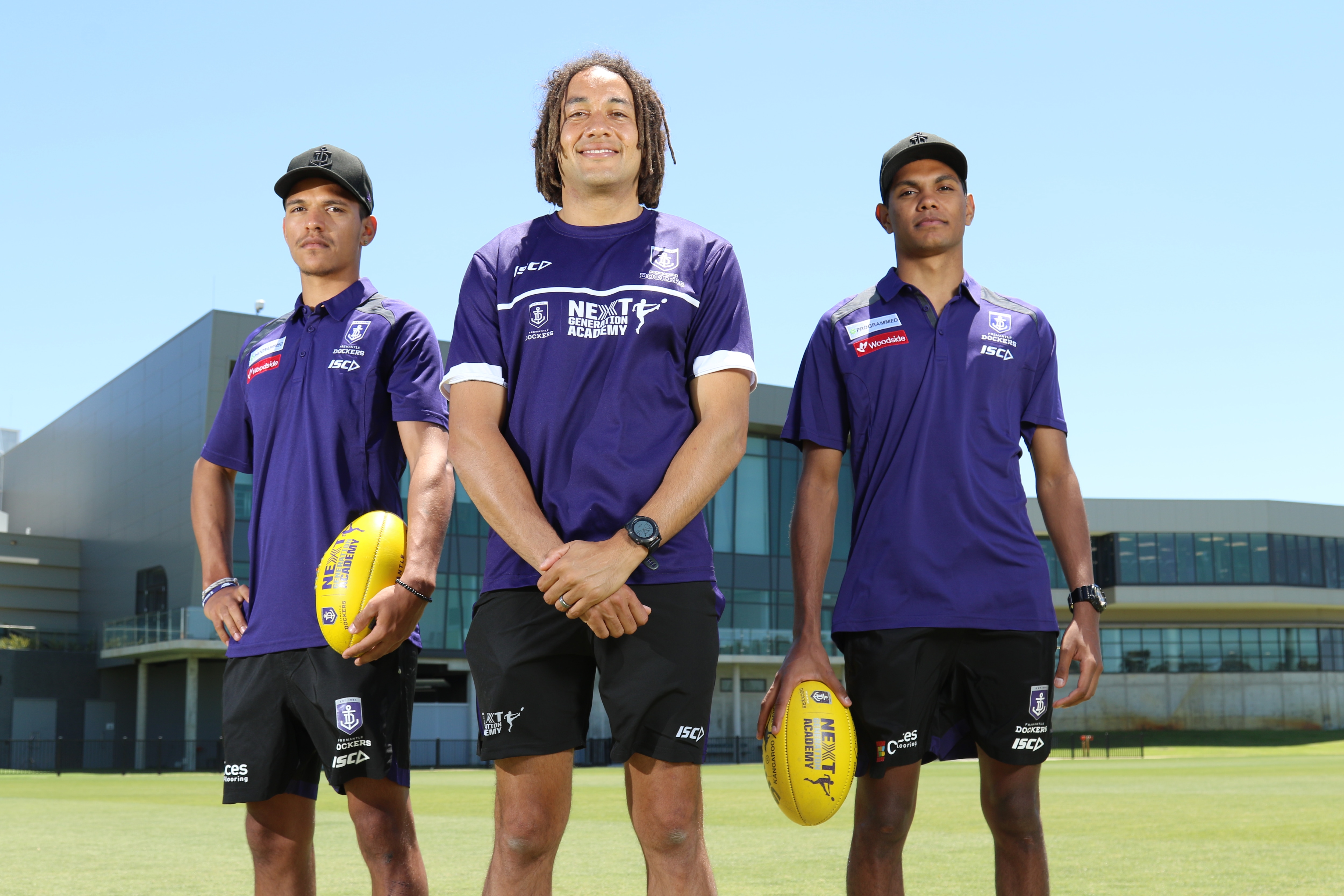 Pina, a speedy rebounding defender, comes in after being on Freo's radar for some time.
"We've watched him closely, we really thought about him for the 2019 mid-season draft. He's another player that we felt improved really well," Walls said.
"He was in the WA leadership group at the U18 champs. He's another terrific person with a great work ethic."
When I asked Walls to summarise the draft haul, I didn't get the answer I expected.
"I was thinking about this today (on the Friday of the rookie draft), it's probably the most multicultural draft hand you'll ever come across," Walls said.
"Jarvis Pina has an East Timorese background, Michael Frederick is South Sudanese. We have the three indigenous boys of course. I have a feeling that Serong is Portuguese/French.
"It's a group that reflects the changing face of footy. These players have backgrounds that, I think, closely mirror Australia's population."
Fremantle's interstate selections, Young, Serong and Frederick, land in Perth on the Sunday night.
They head straight to Peter Bell's house, where there is a welcoming BBQ for the new draftees.
A number of Fremantle players are invited, but it was hoped only a handful would turn up due to space and catering restrictions.
The Bells would have been overwhelmed when around 15 accept the invitation. Several more are apologies - they already have tickets to Ziggy Alberts at the Fremantle Arts Centre.
It's another sign of the whole-of-club enthusiasm about this group and Fremantle's future.
Freo players get to know each other at a BBQ at the Bell family home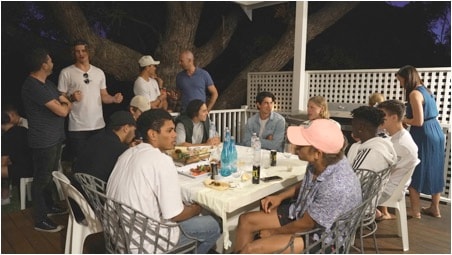 If you rolled your eyes at the opening line that compared Freo's 2019 draft haul to winning a grand final, I totally understand.
But out of respect to the recruiting team, it wouldn't be fair to compare it to losing a prelim - or missing out on finals - and starting work the next day either.
It's been a good result for the club. The recruiters will hope it means Freo won't be allocated many more top-10 picks in the coming years.
But to roll out another cliché, the proof is in the pudding.