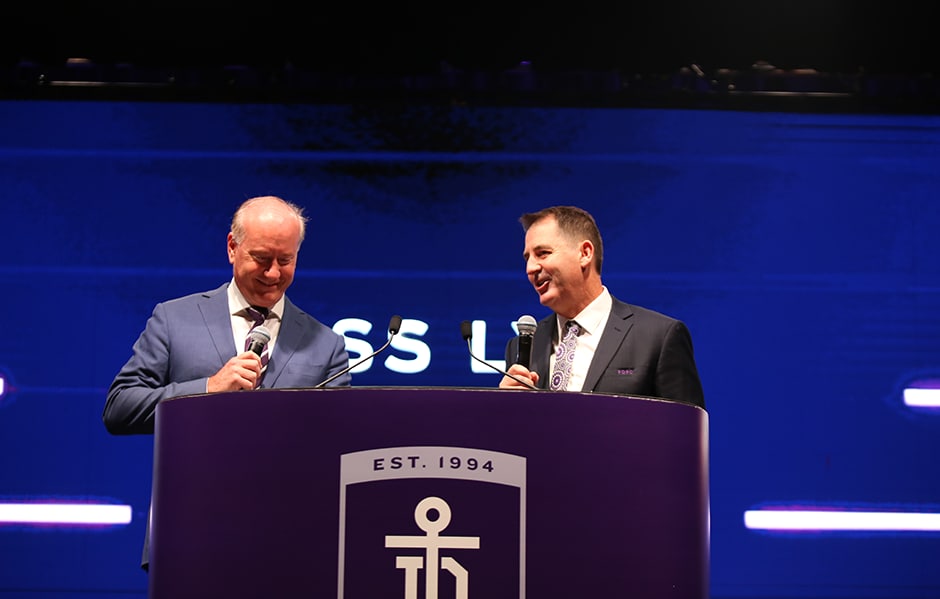 Senior coach Ross Lyon has declared his confidence in the club's direction as Fremantle launched their 2019 season in front of more than 800 guests at Crown Perth on Tuesday.
Fremantle will open their season in just under a fortnight, taking on North Melbourne at Optus Stadium on Sunday 24 March.
Lyon said it was an honour to lead Fremantle for another season.
"I'm in a privileged position to be the senior coach of the Fremantle Football Club, it's a role I take very seriously and I am committed to," Lyon said.
"It's a new season, we are a young club, 25 years in context, we are still building. I have no doubt that this club will deliver premierships... we are committed to the bigger picture.
"We need to keep on bringing in good people, get our selection and our strategies right and work within the system. We will deliver, it's just a matter of time."
Fremantle captain Nat Fyfe declared to the room that he will be fit to return to the line-up in round one.
"I'm happy to announce that I couldn't be more ready for round one," Fyfe said.
"I did 10km of work on Sunday with contact and marking so I'm ready to go."
The launch also saw the unveiling of the design of Fremantle's 2019 Indigenous jumper, designed by Fremantle life-member Troy Cook.
"Roger Hayden gave me a call about putting in a design of this Indigenous guernsey. Going through the process, it all started with scratching notes in my son's notepad and it was a really enjoyable process," Cook said.
"I grew up in Carnarvon and it's all about my boyhood memories. The middle feature is the Gascoyne River with 25 river mullet, symbolising the 25 years of the club history.
"We're really proud of how it looks and, hopefully, when the guys pull it on against Brisbane in round 10, they'll wear it with pride."