In this first of four-part series, we take you behind the scenes at the 2019 NAB AFL National Draft, held in Melbourne between Wednesday 27 November and Friday 29 November.
A worn out tennis ball bounces back and forth between the purple walls of a small office in Docklands, Melbourne.
Fremantle's WA recruiting manager Tim Goodwin and Victorian recruiting manager Ed McMullin are practicing their off-breaks as they wait for round one of the draft to commence at 7pm.
It's a full house with Victorian draft manager David McMullin, list manager Mark Micallef, recruiting analyst Steve Gloury and pro scouts Neil Ross and Braeden Money all sharing the small space.
Fremantle's recruiting team wait out the final hours before the draft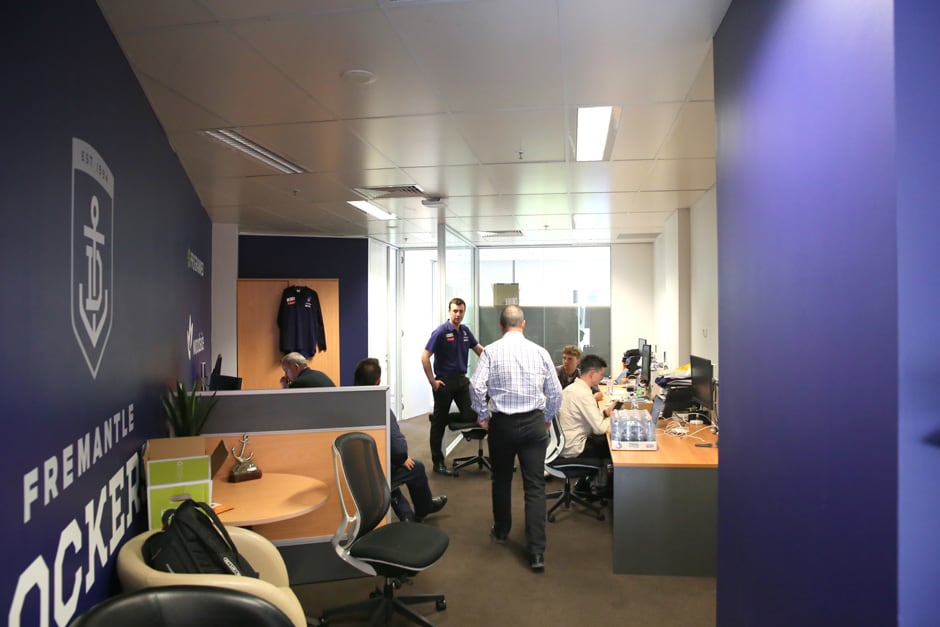 The 'Melbourne Office' – as it is referred to by Freo's WA-based staff - gives you a feeling much like visiting an Australian embassy in a foreign country.
The Fremantle logo adorns the main wall and a life-size Nat Fyfe banner greets you as you enter the main meeting room.
There is a lot of pent up energy in the open plan area, like a toy car wound up ready to be released. All the work for the draft has been done, someone just needs to drop the clutch.
"There's not much left to do to be honest. I have to get changed, that will waste at least 10 minutes," jokes Goodwin.
It's 2pm. So that leaves another four hours and 45 minutes for Goodwin to fill – minus the five-minute walk to Marvel Stadium.
The recruiting experts are spending their pre-draft afternoon in a similar way to many footy fans across the nation.
Someone has the AFL.com.au pre-draft show streaming live on a laptop and they crowd around to watch draft expert Callum Twomey interview Dylan Stephens.
Stephens' eventual selection at no.5 was considered a surprise to some on the night, but Freo's recruiters were prepared for such a situation.
Every possible scenario has been considered and mapped out with a Fremantle response.
The biggest question, and the biggest potential impact of Freo's draft, revolved around when a rival club would bid on Next Generation Academy player Liam Henry.
Braedon Money studies a PowerPoint presentation showing flowcharts for every possible bid.
If Henry is bid on before pick no.7 – execute pre-arranged trade with Gold Coast – is one example.
Ed McMullin leaves the tennis ball for a while and buries himself in 'Scout' – a Champion Data resource that collates countless statistics about every state league or U18s player in the country.
He's preparing a handover package on the draftees to give the coaches on Monday. There's not enough time after the draft, so he has to prepare reports in advance for every possible player on Freo's wish-list.
For the others, all that was left to do was wait.
And check twitter.
Specifically, Callum Twomey's twitter.
Twomey is renowned for having his finger on the pulse and his insights have been gold to AFL recruiters.
In 2017, his 'late mail' broke Andrew Brayshaw's surprise rise to Freo's no.2 selection.
Goodwin hopes there might be some insight into what other clubs are up to this time around, but Twomey has other things to do.
"Cal tell me the late mail, sunshine," he pleads to the screen.
"He's too busy promoting his show," was a semi-frustrated response.
Meanwhile, national recruiting manager David Walls is in his office, and has time for a chat.
His phone sits between us on his desk, on charge and poised to ring at any second to set off a chain reaction of events.
"The next few hours, we're just ready to be on the phones," Walls said.
"It's talking to your contacts, going through what you're hearing from them, keeping your ear to the ground.
"Just five minutes ago, we had an offer from Sydney that we're assessing, comparing that to the other deals we have planned and what is possible for us.
"We've got meetings with clubs just prior to the draft, again to explore further trade possibilities."
Walls confirms that tonight revolves around Henry, from a Freo perspective.
"We're really excited by Liam but our job is to pay as little as possible for him," Walls said.
"There's a level of confidence in how we think the draft order will go early on. We've done a lot of work and we've done a trade to get picks seven and eight, so we can use them live instead of on a bid for Liam.
"These picks are at an area of the draft that we really rate - the top eight players in the draft.
"We're hopeful that we'll get two of them, it's just a matter of where the Liam Henry bid comes."
There's a 'calm before the storm' feeling throughout the office.
"Everyone is pretty anxious and nervous trying to find out who we will get," Walls said.
"The work's been done, so we're excited more than anything."
The hours pass and we leave the recruiters to their twitter, off-spinners and phone calls. Our video producer, Britt Maxfield, wants to get some shots of our draft room before the recruiters arrive.
Freo's room is corporate box eight, usually occupied by sponsors watching Marvel Stadium games in luxury.
Inside the room there are three gaming monitors on a desk and eight chairs.
The largest monitor displays the screen our recruiters will be studying all night.
It's currently running a mock-draft and the operator has given Melbourne Hayden Young at pick no.3 (he will end up at Freo at no.7 just over an hour later).
Kinnear Beatson, Sydney's head of recruiting and list management, pops his head through the door – presumably he wants to discuss the trade deal mentioned earlier.
He says to "tell 'Wallsy' Kinnear is looking for him."
Not long after our recruiters arrive, wielding enough water bottles to survive for a week.
From left to right, national draft manager David Walls, Victorian recruiting manager David McMullin, recruiting analyst Steve Gloury and list manager Mark Micallef.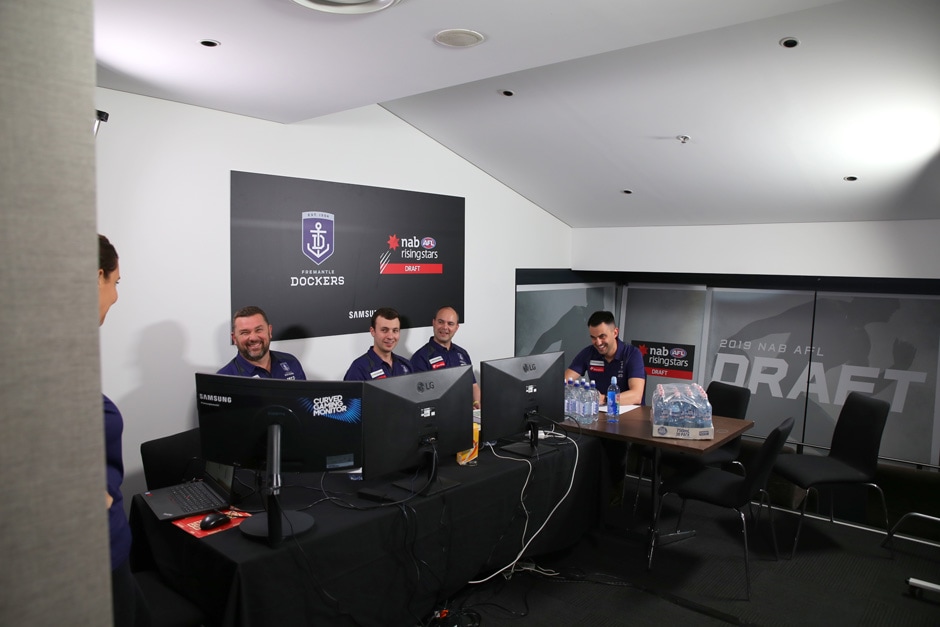 We pass on Kinnear's message and leave to work on significantly less important things – social media.
It's a five-minute walk through the corridors around to the other end of Marvel Stadium to a packed media centre.
We then get a lift down two floors and walk another two minutes to the Victory Room, where the players and a brightly lit stage are waiting - and the Fox Footy cameras are rolling.
Britt and I discuss options to open our Insta Story coverage for Freo's followers.
We opt for a photo of the stage with a superimposed gif of an excited Jonah Hill.
"It's time," the post says.
Stay tuned for part two on Tuesday as we get to know our three top-10 picks!