In this second part of this four-part series, we take you behind the scenes at the 2019 NAB AFL National Draft, held in Melbourne between Wednesday 27 November and Friday 29 November. Missed part one? You can read it here.
The Victory Room at Marvel Stadium isn't as big in real life as it appears on TV.
There are only a handful of rows between the stage and the cameras at the back of the room.
Vic Country teammates Hayden Young and Caleb Serong, and their families, are seated next to each other. They don't know it yet, but in just under an hour, they will become Fremantle teammates.
"With pick no.7, Fremantle select…"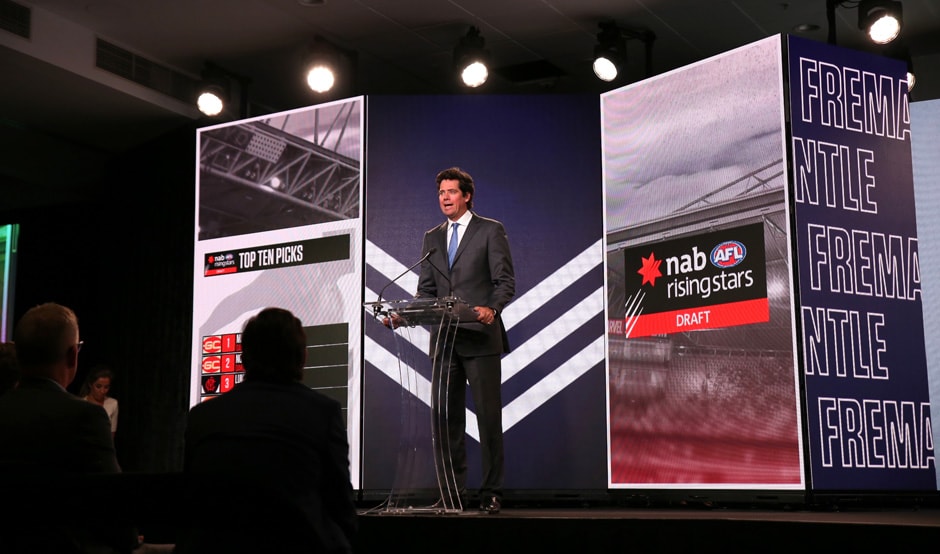 If you're not a bundle of nerves when AFL CEO Gillon McLachlan comes on stage to announce each pick, you're not human.
When your name is called, the cameras zoom in on you and your family's reaction.
You walk on stage under the bright lights and, if you're heading to Freo, there's Justin Longmuir presenting you a jumper.
It's an intense environment to make, what could be, the most important first impression of your life.
You then exit stage-right to be interviewed live on Fox Footy before being whisked backstage where everyone wants a piece of you: reporters, photographers and especially the Freo comms team.
The first task is to sign a handful of NAB-branded footballs.
A still-stunned Serong is less than impressed with his penmanship, "my hands are shaking so much," he explains.
The no.8 pick meets Justin Longmuir for a second time back stage – the senior coach is waiting to see if he is needed to present a third jumper. Carlton have bid on Liam Henry with pick no.9, all Fremantle have to do is match.
Rosie Duffy, our media coordinator, interrupts. Serong has just put on his brand new Freo polo but he hasn't tucked it in.
Longmuir, who shares a country upbringing with Serong, is quick to defend his new player's style.
"He's a country boy, surely he doesn't need to."
It's said as a joke, but it  makes a clear statement to the young midfielder – don't worry mate, I've got your back.
Hayden Young is interviewed by Dylan Buckley backstage in the Victory Room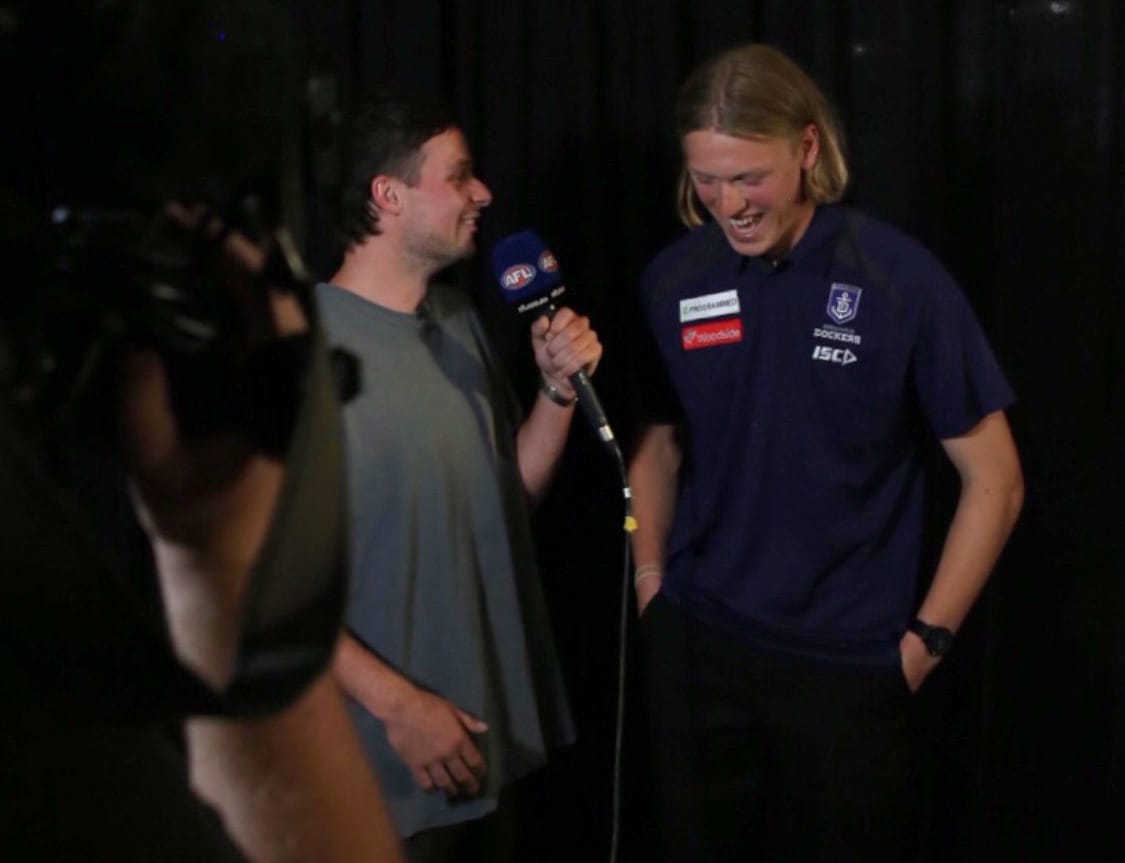 Meanwhile, Hayden Young has been buzzing since he was called at no.7.
He's pumped he's been drafted to Freo. He's pumped that his good mate Caleb is joining him. He continues to be pumped as Freo match Carlton's bid for Henry.
Longmuir heads back to the stage. Young clenches his fist in celebration.
"Yes, Liam's on board," he says to no one in particular.
Henry is soon welcomed with the standard half-handshake, half-hug greeting mastered by footy players through the years.
With Longmuir and three young guns in tow, we pile into a lift and head up to the media centre for even more photos and interviews.
Why was the number 6️⃣ afraid?

Because...

#AFLDraft #foreverfreo pic.twitter.com/vv1pVhnfxP

— Fremantle Dockers (@freodockers) November 27, 2019
So many AFL personalities are crammed into one tiny space. If you don't watch where you're going you could easily bump into a senior coach, a former star-player-turned-commentator, or accidentally walk through a photoshoot or an on-camera interview.
Young and Serong open their Instagram accounts. There's a sea of notifications with blue 'Follow Back' boxes for days.
"It's blowing up," Serong says.
General manager of football Peter Bell approaches Henry and congratulates him on being drafted. He then apologises that Fremantle appeared to take their time to match Carlton's bid.
It wasn't because of indecisiveness on Freo's part, Bell explains, but because they first had to perform a pick-swap with Port Adelaide to minimise their points deficit next season.
Henry completley understands and later finds a moment to FaceTime Michael Walters. All of his other messages and notifications can wait.
"You're on media street, now!" you can hear Walters exclaim over the hubbub.
FaceTime with Sonny. Not sure who's more excited #AFLTrades #foreverfreo pic.twitter.com/DQz0MCiKtO

— Fremantle Dockers (@freodockers) November 27, 2019
After two hours of questions, smiles and camera flashes, we leave to a nearby restaurant for a club and family function.
But the players aren't free yet. After brief hugs and congratulations from family, it's time for the comms team to get to work.
The first order of business is a WhatsApp video chat with Nat Fyfe.
The Freo captain has pulled over on the side of the highway. He's driving south for a surfing trip as the players commence a four-day break.
The scene back in Melbourne is set with lighting, microphones and two cameras in case the screen record doesn't work (it didn't).
Fyfe carries the conversation naturally and is focused on welcoming his new teammates.
He plans a surfing date with Young, tests Henry's interest in playing on the wing and asks Serong what his role will be in the midfield.
"Block for you," Serong says – what better can you give to a two-time Brownlow Medallist?
After a series of interviews with DockerTV, the boys are finally free.
They mingle with family, friends, staff, coaches, recruiters and, of course, attend to the mountain of messages on their phones.
Henry gets straight to business with list manager Mark Micallef and asks what jumper numbers are available.
The 18-year-old is keen on 26, but the number 31, vacated by Aaron Sandilands, also sounds tempting due to its proximity to Stephen Hill.
By midnight, everyone has left the room. Tomorrow is another big day. There's a 7am photoshoot with a men's fashion magazine, followed by another media commitment outside AFL House at Docklands.
Henry will be back in WA by Thursday evening. The Victorian boys have until Sunday to say their goodbyes, pack their bags and board the plane to Perth.
Training starts Monday. 
For the recruiters, they turn their focus Freo's final selection of the draft - pick no.68.
***
The drama keeps coming at the draft, even with just one pick in the 60s remaining. Stay tuned for part three on Wednesday.