READ UP ON THE 2019 DRAFT CLASS
Callum Twomey from AFL.com.au profiles some of the top draft prospects heading into the 2019 NAB AFL National Draft.
TRENT RIVERS
A pre-season spent on the couch watching the cricket and barely eating forced Trent Rivers to reassess his aims for his draft campaign.
But after winning under-18 All Australian honours for his performances for Western Australia, and then finishing the season in excellent form for East Fremantle, Rivers shapes as a possible top-30 draft choice this month.
That seemed a long way off when Rivers was bedridden over summer, as the teenager dealt with a serious case of glandular fever and tonsillitis.
It left Rivers, an attacking and powerful defender who can play in the midfield as a bigger body, with little time to prepare for his crunch under-18 season.
"I was diagnosed in very late December and I was only walking laps in late February. I started running and doing full training at the start of March, and I was playing my first scratch match in the middle of March," he told AFL.com.au.
"I didn't even think I was going to be playing footy until round five, but I played in round one and started with a good game."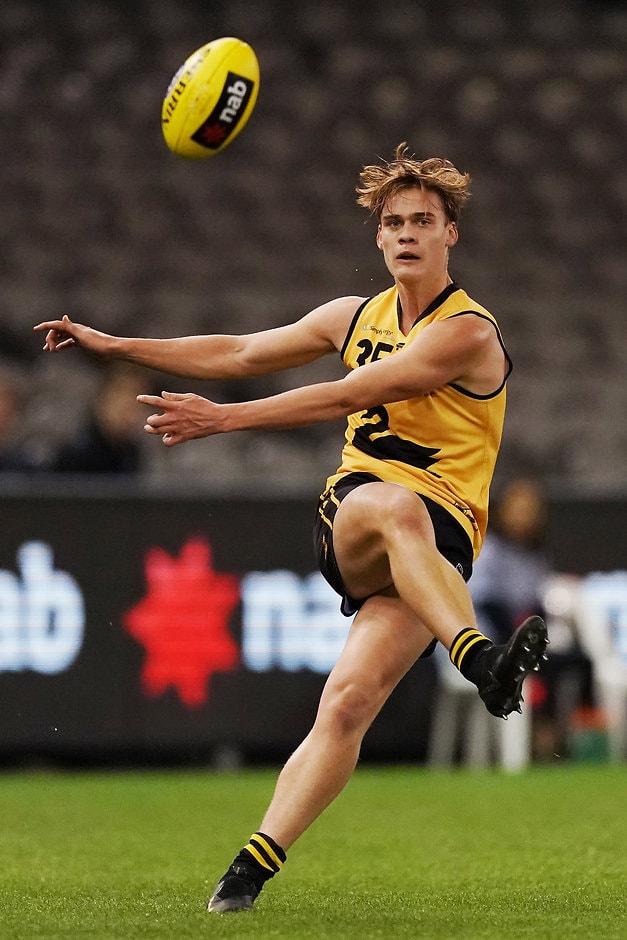 As his West Australian teammates gathered for training camps over the pre-season, Rivers was stuck inside at home, getting more concerned by the day that his chance to impress clubs was fading.
"I did think that, but I had a really good group of doctors around me and they were holding me back and making sure I was taking it step by step and doing it in the correct procedure," he said.
"I wasn't able to play footy and I wasn't able to participate in the camps we had in the December and January period, so I was a bit worried about what recruiters would look at and see. I think they'd all understand that it was pretty serious."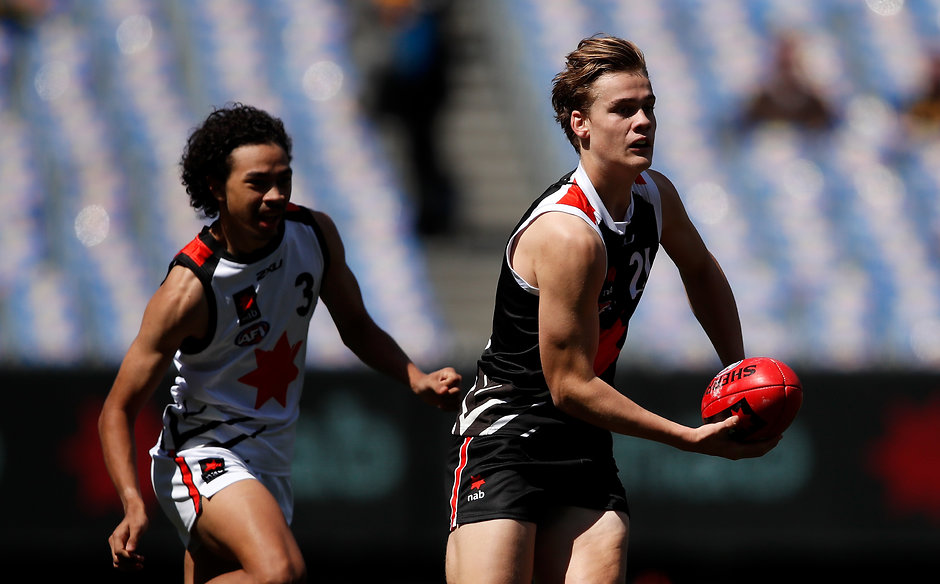 Rivers wasted no time upon return from illness, gathering 26 disposals in the East Fremantle colts' round one clash with Claremont.
The 188cm prospect continued at the same pace before being a standout for his state at the national carnival, averaging 22 disposals at 77 per cent efficiency in a long-kicking, dashing role in defence.
Rivers works hard to penetrate with his run and disposal, and has also been used at stages in the midfield, where he sees himself potentially playing in the future if he can improve his endurance.
That's where he played late in East Fremantle's end to its under-18 season, including in the final round, when he picked up 30 touches and kicked two goals in a best-afield display.
Rivers knows the likelihood lies with his name being called by a club outside of Western Australia, but is prepared for that transition.
"It's been pretty exciting talking to [all the clubs] and getting an insight into how they see me as a footballer and as a person," he said.
"Being only two clubs in WA if you're going to set yourself to be in this position you've got to get used to the thought of not being at home and being at home in Queensland or Victoria or wherever it may be. I've got my head around that. I am going to see where it takes me."
DYLAN WILLIAMS
AS THE Oakleigh Chargers roared towards their NAB League premiership win over the Eastern Ranges, Dylan Williams was watching the Grand Final from the sidelines at Ikon Park.
A year earlier, he was out there for the Chargers – that time in a hard-fought Grand Final loss to the Dandenong Stingrays.
That defeat was no fault of the 17-year-old Williams, who booted four goals as part of a dazzling finals series that saw him kick 14 goals and establish himself as one of the highly rated talents for the following year.
Williams celebrates one of his goals in the 2018 TAC Cup Grand Final.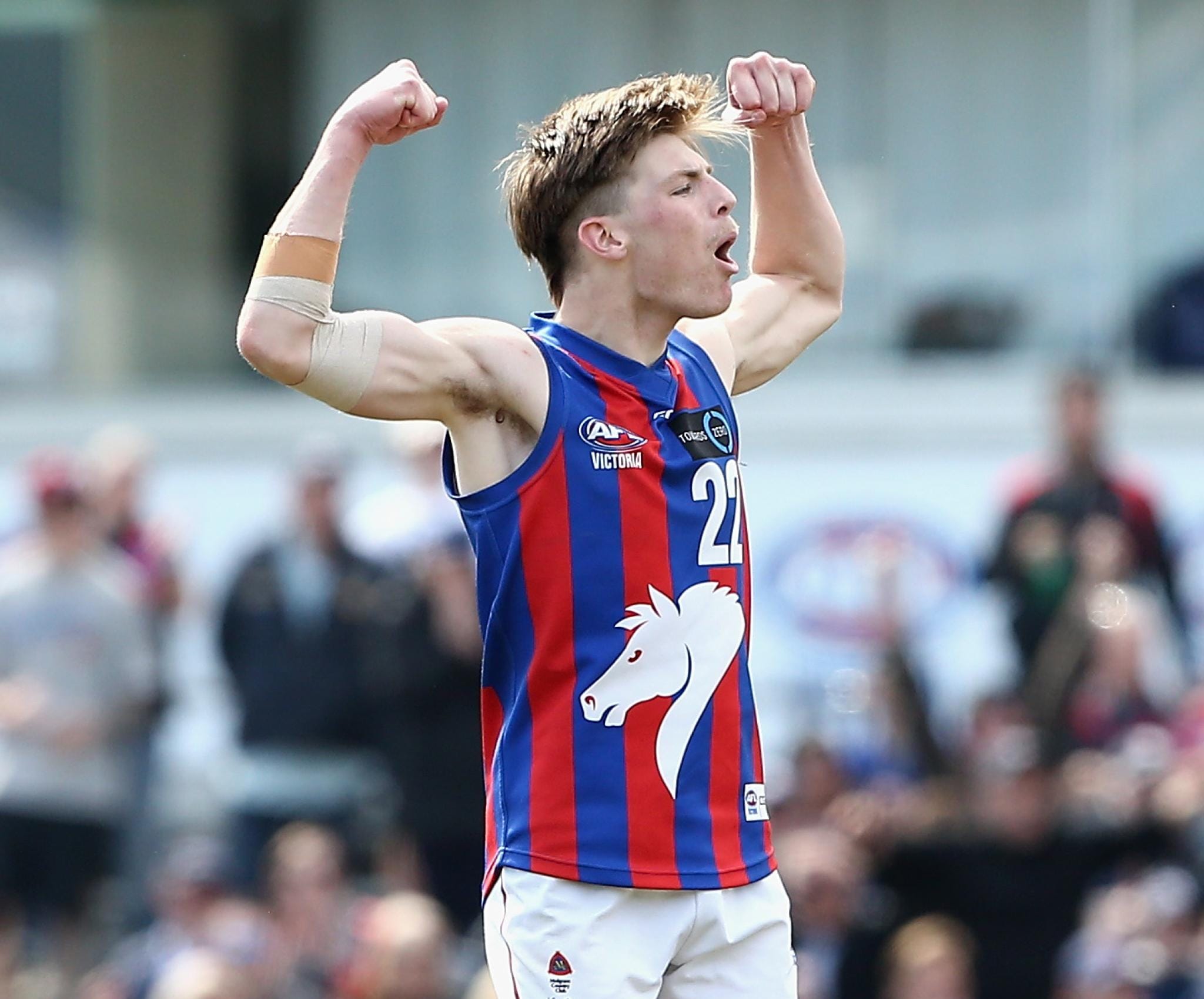 Playing as a deep forward, the 185cm prospect took high grabs, created chances from nothing, was dangerous at ground level and nearly every opportunity he got around goal he converted. He kicked 26 goals from 16 games last season, proving himself as one to watch.
But Williams spent more time doing the watching than he would have hoped this year, making him one of the most fascinating players in this year's crop.
"I'm definitely frustrated. I had a pretty poor start to the year and then on top of that I had injuries in the middle and back-end of the year that held me out. Overall it was a pretty hard year," he told AFL.com.au.
The challenges started early. After struggling for form to begin the season, he received a knock to his leg in the first game for Vic Metro and then had a groin injury in the second game. He was limited to only two appearances in the carnival.
His championships, therefore, didn't reach the heights he had hoped for.
Following the Vic Metro carnival, Williams had another setback: a stress fracture in his back that saw him miss the final 10 weeks of the season, including Oakleigh's charge to the flag.
"They thought it was a muscular issue for a while, so I trained after I felt it and played the next week but I couldn't move," he said.
"I pushed through but then I said I thought it was something else, so I got a scan and I had the stress fracture.
"Initially I was told my season was over and we went to see a specialist and I hoped I could get back for the preliminary final or maybe the Grand Final.
"But two weeks before the Grand Final they said I was healing really well and it was better for my future to rule out a return and keep my rehab up."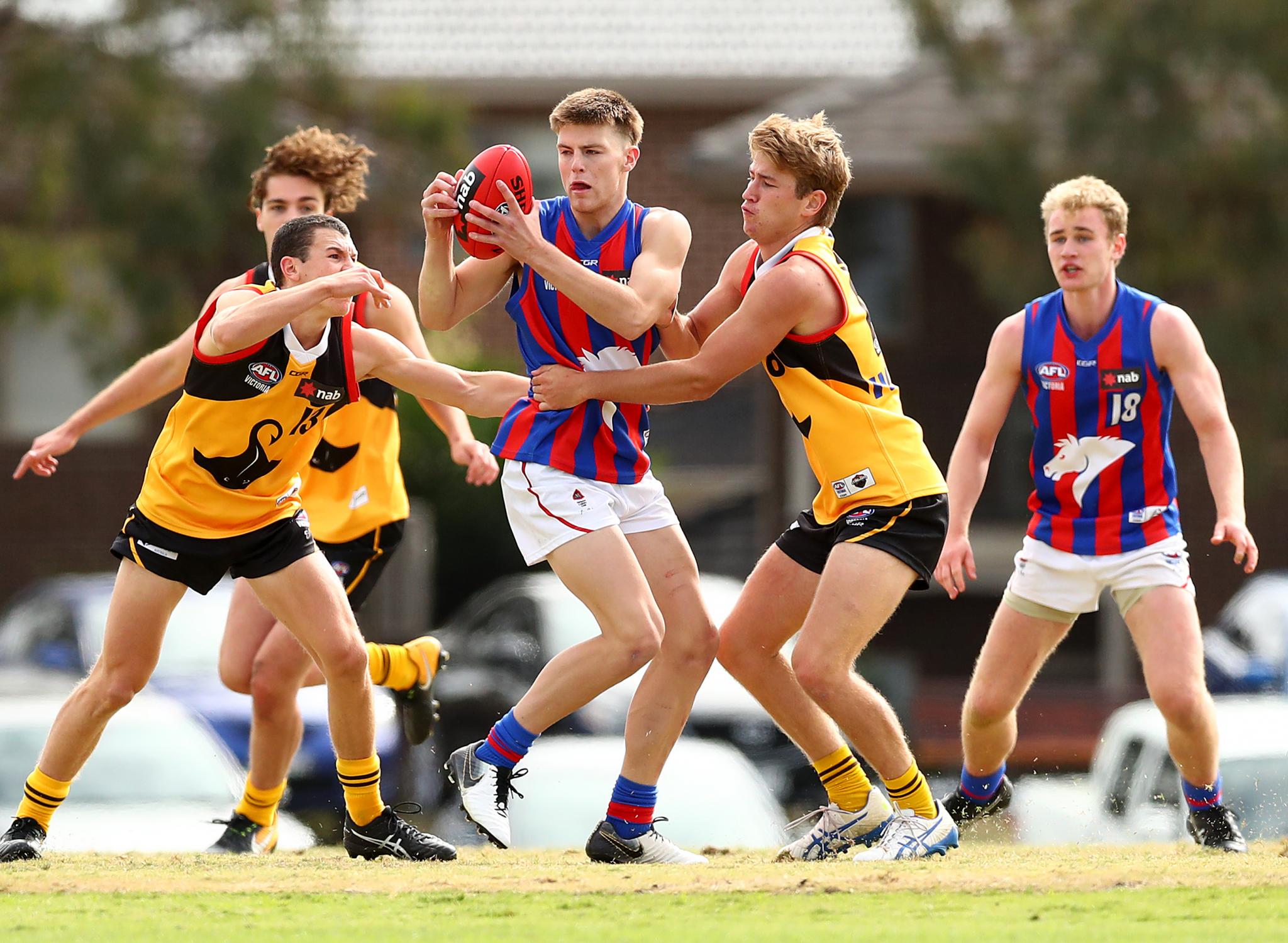 It leaves Williams' draft position as a mystery. His talent is undoubted by recruiters, but they wanted to see him improve his endurance this year, run more and control games rather than dip in and out.
"I definitely have to work on it. With my back injury I've been doing a lot of rehab, so conditioning on the bike or swimming. I'm feeling the fittest I've ever been and the strongest I've ever been which is really good," he said.
"I've dropped 10 on my skinfolds since I've been in rehab so that's a result of working hard."
What Williams has is game-turning ability. Close to goal he can change a result – obvious earlier this year when, after three quiet quarters, he kicked three goals in the last term against Calder Cannons to win Oakleigh the game.
He has also spent time in the midfield, where he has impacted, and across half-back, where his vision and game sense helps sets up the play.
Williams in action against Eastern Ranges in the NAB League.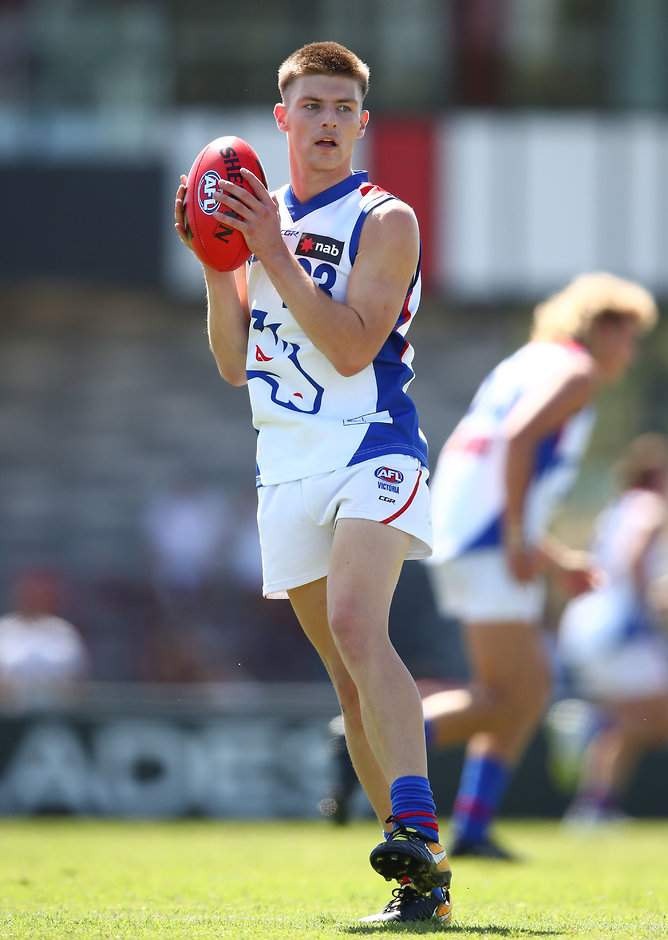 But after kicking more than 40 goals in the NAB League over the past two seasons, Williams is most proven in attack. He's aware of his flaws, but also believes in his tricks. He hopes clubs see and think the same.
"I think my point of difference is my X-factor," he said.
"I like the big moments and I like the pressure, when all eyes are on me and thinking 'Is he going to do it?' Or that pressure that they don't think I'm going to do it.
"I'm always still really confident in myself. At the start of the year I was playing badly but I always have the confidence that I'm the best player on the field when I'm there and I have game-winning ability."