Priority pick Kirby Bentley takes us through her thoughts on the first week of training for Fremantle's AFLW team.
After years of waiting, and all the hype around the arrival AFLW, the reality of being a Fremantle Docker is only starting to kick in.
It's been a good start for the girls. They were certainly excited coming into the first training session last Tuesday night, but I know they were also pretty nervous.
If anything, it's a perceived pressure that we feel. The girls have high expectations of themselves and they want to do their absolute best. Knowing that we had a 2km time trial on day one of training with fans and the media watching on, everyone wanted to impress.
But pre-season is all about making sure we're in a good position come game time, and there was a great vibe out there.
I was grateful when coach Michelle Cowan asked me to lead the girls out onto the field. It was a huge honour, and it's not something you get asked to do very often.
Out in the middle, I told the girls that this was it. We're here, and this was the beginning of a new journey. We get to play AFL!
The Fremantle Dockers are our club and this is where we're at for the next four months, so everybody just needs to come together and enjoy the moment for what it is, and get to work.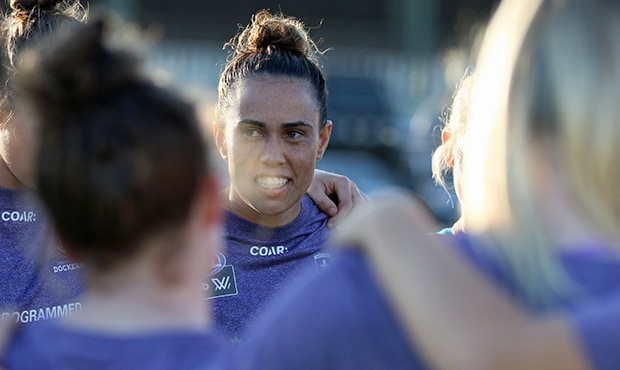 You could see that the nerves were there with the younger players, but once we were in action, they looked the part and were talking it up and getting really involved - and I think it's important that they did that.
Like they say, it's pre-season for a reason. It's important we do the hard yards now leading into January. With our own expectations and the hype from the media, especially at our first training session, it just adds adrenaline, and I think that makes for a good consistent session.
It's been great to see families with groups of young girls coming down. People are certainly interested in AFLW and what it's going to bring to women's sport.
It's important to engage with our fans as you never know the impact that we could be having on their lives. You never know how a passing comment that you say will affect or inspire somebody, and vice-versa.
We're not necessarily famous, we're not famous at all actually, but we're playing a game that we love, and these young girls and families are coming down now because they're interested in football and they see a future in it for their young daughters.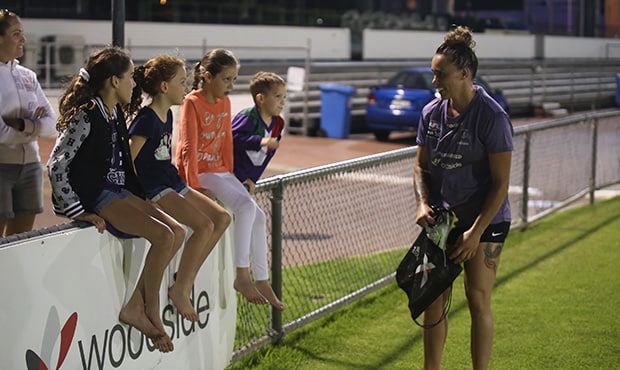 Looking at our current crop of players, we have a handful who haven't played in our WAWFL league, and they're coming into the game with a lot of great qualities and attributes.
It was so exciting to see someone like Gemma Houghton, who has never played a game of football in her life, come out and smash the 2km time trial and then show how skilful she can be with a ball in hand.
It's exciting for us because we've never seen her play. She's kind of an x-factor going into the season. The other teams won't know what to expect, it gives us a dark horse going into the game.
And this is just the beginning. If we keep setting the standard then next year we're just going to lift that bar.
Players who are coming into the game, they will get a taste of what it's like to be at this level and this intensity.
It's so important for the growth of the game. These players will be going back to their individual clubs and feeding this momentum back into the local leagues, and we'll soon see an improvement across the board.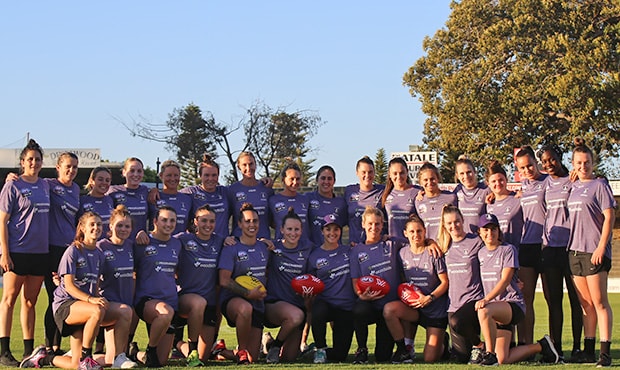 Looking back to when I grew up in Mount Barker, I'll admit that I was a tom-boy.
All of my best mates were boys and we played footy. For a little while, I even thought I was a boy - and I had the same dreams they did about playing in the AFL.
Soon reality kicked in, and I came through my youth playing netball. It wasn't until 2009 that I started playing footy again.
At that time the game started getting bigger and the hype started to come. It just made everything that little bit more exciting.
I think you need to play against the best to become better and to challenge yourself and to grow, and that is what the AFLW is all about. The game is growing constantly, so the more we expand the more we will improve across the board.
I never really expected to play AFL, so it's especially frustrating to not take part in full training as I recover from an ACL injury.
The hype around being named as a Fremantle Docker was the beginning. Coming down to training giving your all is the next step.
I look forward to training with the girls without any contact over the next couple of weeks, but hopefully I'll be taking a few hits after that.
And to be honest, I'm kind of hanging out for it!