In this third part of our four-part series, we take you behind the scenes at the 2019 NAB AFL National Draft, held in Melbourne between Wednesday 27 November and Friday 29 November. Missed part two? You can read it here.
There were 21 players selected in round one on Wednesday night of the draft.
From the total of 843 nominees, 822 nervous young men remained, waiting to see if they would hear their name called on the Thursday night.
Late in the draft, in the suburb of Mansfield Park in Adelaide, 19-year-old wingman Minairo 'Michael' Frederick is so anxious he takes a shower to calm himself down. 
It's not just the potential draftees at their wits end.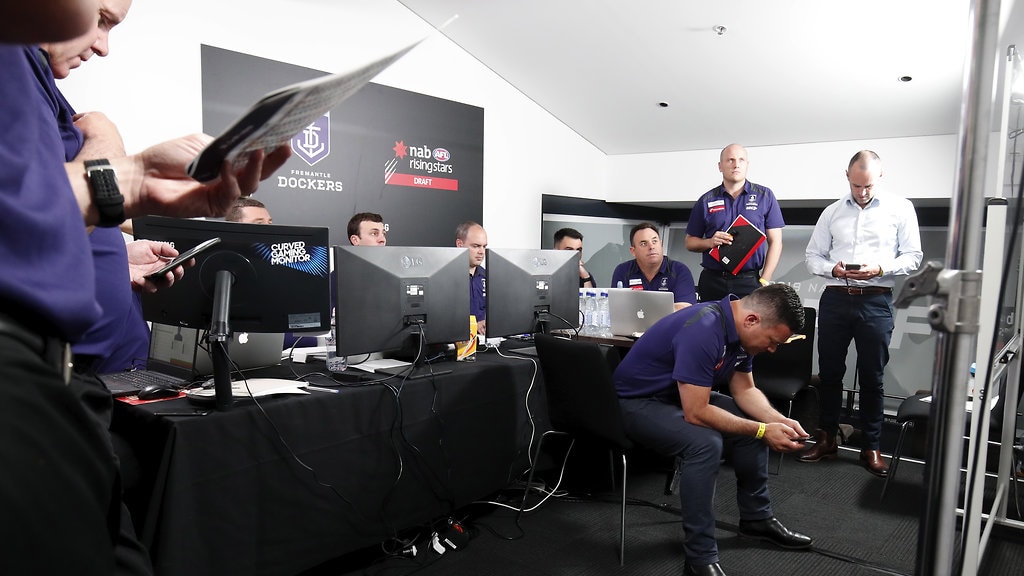 Sitting in corporate box eight in depths of Marvel Stadium, the Fremantle recruiting team are on edge.
Night one obviously went well with three top-10 picks, but Freo still need to add some outside midfield depth after the departures of Bradley Hill and Ed Langdon.
They only have one chance to do so with pick no.68 - it's set to be the final pick of the entire draft.
"The second night, it was a long wait. We were at Marvel Stadium for five or six hours before we got to make our only selection," says national recruiting manager David Walls.
Freo's recruiting team have identified a handful of players that tick all of the boxes. The question is, will any of them be available at the end of the night?
Frederick doesn't know it yet, but Freo have him in their sights.
They really want him.
"Often in a recruiting team, there are mixed opinions on players. It's not rare for there to be disagreements when a player is selected," Walls said.
"But in Michael's case, our recruiting team was unanimous, we were excited about potentially bringing him in as a late pick with the attributes he has.
"Everyone was really invested in it and there was a lot of anxiety and tension in the room."
To those following the draft live, this tension was made clear when Freo flipped a future fifth round pick to Brisbane to move from 68 to 61. 
It was an effort to get ahead of other clubs who had expressed interest in taking the Woodville West Torrens player, who was best on ground in their 2019 SANFL U18 Grand Final win. 
Fox Footy presenter, and Fremantle opposition analyst, Leigh Montagna also has his mind on who might go in the fourth round, but for a different reason.
He has a good relationship with the Freo recruiters and he pops in for a chat.
"Leigh has been doing a lot of opposition analysis work with us," Walls said.
"He was about to call out the fourth round of the draft and he came into our room and asked if there were any players that would possibly go that had a difficult pronunciation. 
"We said they were 'all pretty standard names, you'll have no issues there'.
"At that time we were set on Michael Frederick, we knew his official name was Minairo, but we didn't tell Leigh that."
Fremantle pro scout Neil Ross, knowing he was being unhelpful, offers to give Montagna the full list of 843 names.
To be clear, they would help Montagna if they could - no recruiter would risk telling anyone who they are targeting if they could help it. Not even if they work for the same club.
At pick 60, Gold Coast call out Jy Farrar. It means yet another Halls Creek boy has entered the AFL.
It also means Freo are free to pick Frederick.
"Just as we got there, we knew he was ours, there was a huge sense of relief that everything had gone to plan for us," Walls said.
Montagna then provides some extra relief, of the comedic variety, on live TV.
He handles the announcement well, but the recruiters can tell what's going through his mind.
"Leigh comes out on stage and we can see the horror in his face as he attempts to pronounce Minairo," Walls said.
There are a few wry smiles from the recruiters as the Fox Footy cameras continue to broadcast live from the room.
They keep it together until the coverage cuts to Hawthorn's selection at no.62.
"Straight after, I reckon within 15 seconds of calling his name out live on TV, Leigh sent us a text saying 'thanks for the heads up, fellas'."
The room bursts into laughter, and Freo's national draft is over.
Michael Frederick celebrates getting drafted with his mum Hellen and brother Martin, who is on Port Adelaide's list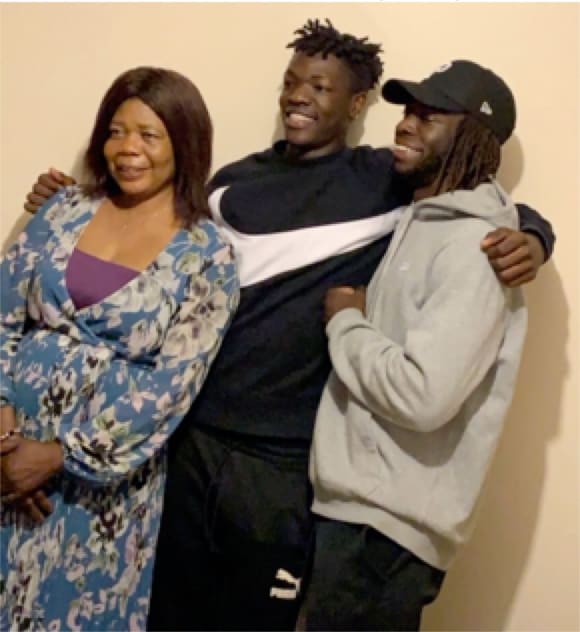 Walls said he could relate when he hears Frederick's story about taking a shower late in the draft.
"I assume he was quite a bit nervous," Walls said.
"For us, there were three or four clubs, like us, that had done a lot of work on Michael and we were worried that other clubs may pick him.
"He probably felt the nerves as these clubs' selections came up and he went to have a shower to try and calm himself down.
"Unfortunately for us, there were no showers in the boxes at Marvel, so we had to sit there and ride it out!"