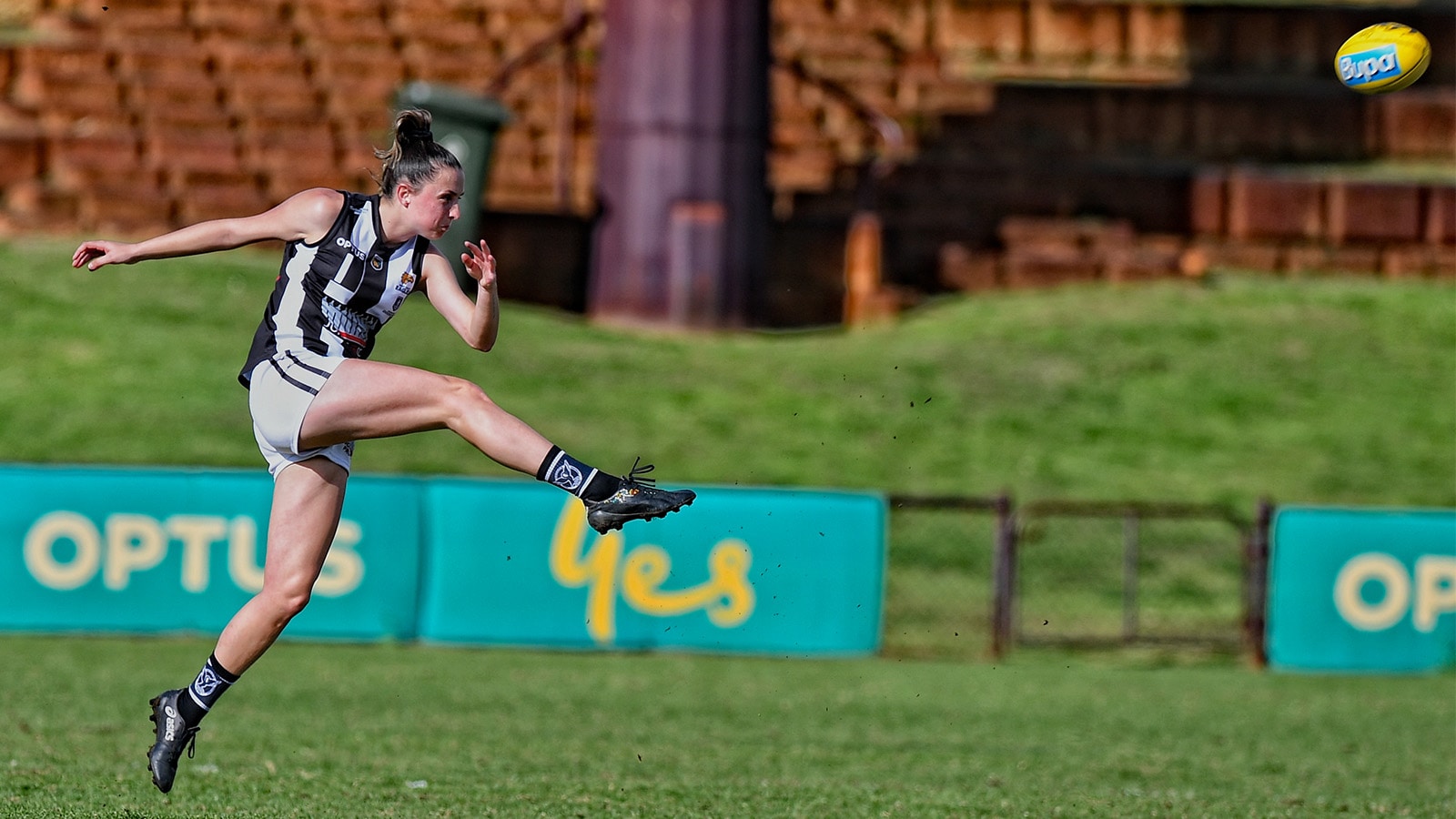 Ten Fremantle-listed players were in action in round 11 of the WAFLW.
Senior Fremantle coach Trent Cooper talks us through his thoughts on the round.
Subiaco 6.6 (42) def Swan Districts 6.5 (41)
This was a cracking game and it was one that I was lucky to be able to go to and watch. It was a game of two halves with Subiaco dominating through the midfield in the first half, getting out to a four-goal lead. Swan Districts finished over the top of Subi to fall one-point short. It was a really entertaining affair.
Hayley Miller (Subiaco)
Hayley was again good for Subiaco through the middle, particularly in the first half. She had some good clearance work and she drove the ball forward. She also went deep in defence to help out in the second half when Subiaco were under pressure. Her form has been great.
Lindal Rohde (Subiaco)
Lindal had around 10 touches in the second quarter alone. She was really dominant on the wing, using the ball quite well and we're stoked with the way that her development is going as she builds for her first AFLW campaign in 2020.
Ashley Sharp (Swan Districts)
Started on the wing where she was ok in the first half. Although she didn't have a lot of it, she used the football well with the depth of her kicking. Then she moved forward in the second half and really got Swans back into it. She kicked two goals, she broke the lines and finished the game really well.
Stephanie Cain (Swan Districts)
Steph had a good battle early with Dana Hooker in the middle. Hooker probably won the points in the first half but Cain finished the game really well as one of Swan Districts' best players in the second half. She was really clean and strong in the contest while playing as an inside mid, which we were rapt to see. We were really pleased with her second half, considering she's had quite a few weeks off from playing.
East Fremantle 10.14 (74) def Peel 1.3 (9)
Peel started reasonably well but from there it became a one-sided affair with East Fremantle being too strong.
Katie-Jayne Grieve (Peel)
Once again Katie-Jayne played on the wing but because of East Fremantle's midfield dominance, she didn't get too much of it.
Tayla Bresland (Peel)
Played back and the ball was going down there a bit, but they were rarely going to Tayla's opponent. Tayla didn't lose many one-on-one contests but she didn't have a big impact on the game eihter. The ball was down there a lot and she didn't get scored against, so that was a good sign.
Sabreena Duffy (Peel)
Sabreena is working back into form and covered more ground this week. She was beaten through the midfield by East Fremantle's weight of numbers but she's definitely on the right track.
Philipa Seth and Evie Gooch (East Fremantle)
Both girls played through the midfield and both have been really consistent this season. They drove the ball forward at will from their midfield positions and their form has been maintained all season.
Gabby O'Sullivan (East Fremantle)
It was probably one of her better games. Gabby's been threatening to take a game apart, and she didn't do this completely in this game but she was named in East Fremantle's best. Gabby kicked a goal and was really dangerous. She led up, presented well and applied lots of forward pressure, so we we're really happy with her performance.
The views in this article are those of the author and not necessarily those of the AFL or its clubs